Japanese travelers are crowding highways, train stations and airports as they head to their hometowns and leisure spots for the New Year holidays.
Airline companies say domestic flights departing Tokyo's Haneda Airport were near capacity on Friday.
Japan Railways Group companies say that reserved seats for outbound Shinkansen trains are almost fully booked for Saturday, and they say congestion is expected to continue throughout the day.
Expressway operators say traffic jams will likely continue in some areas on Saturday. They say congestion of 30 kilometers on the Tomei Expressway, and 20 kilometers on the Kanetsu expressway, is expected for Saturday morning.
年末年始をふるさとや海外で過ごす人たちで、空の便を中心に混雑のピークを迎えています。 鉄道では、東海道・山陽新幹線が下りの「のぞみ1号」で自由席の乗車率が140%になったほか、東北、山形、上越、北陸の各新幹線の一部列車で乗車率が100%となっています。
Jun 20
Monday morning's deadly earthquake in Osaka has affected tourism in the region, with travelers at home and overseas canceling bookings in the affected areas.
(Japan Times)
Jun 18
Shinkansen bullet train services in western Japan have resumed following disruption caused by an M6.1 earthquake in the Osaka region.
(NHK)
Jun 18
For a Filipino man visiting Tokyo in May last year, the tour of the capital was supposed to be a fun sightseeing trip.
(Japan Times)
Jun 16
Japan's new law on minpaku (private lodging) businesses took effect Friday, but stringent rules may dampen the entry of homeowners into the market, despite hopes that it could help counter a shortage of accommodation amid a growing number of foreign tourists.
(Japan Times)
Jun 15
The Japanese government said Thursday foreign travelers with unpaid medical bills will be denied entry to the country in the future, with the number of foreign visitors set to surge in the run-up to the Tokyo 2020 Olympics and Paralympics.
(Kyodo)
Jun 15
The number of applications to conduct "minpaku" lodging business under a new Japanese law totaled 2,707 as of a week before the minpaku law goes into effect on Friday, according to Japan Tourism Agency officials.
(Jiji)
Jun 15
A day before a new law on minpaku (private lodging services) takes effect, Airbnb Inc. on Thursday welcomed the change and reinforced its commitment to the Japanese market with fresh initiatives.
(Japan Times)
Jun 12
Xiang Xiang, a giant panda cub at Tokyo's Ueno Zoo, showed off a playful personality in front of the press on Monday, the day before her first birthday.
(Jiji)
Jun 09
Airbnb says it has been obliged by Japanese authorities to cancel thousands of bookings ahead of the introduction of new rules.
(NHK)
Jun 09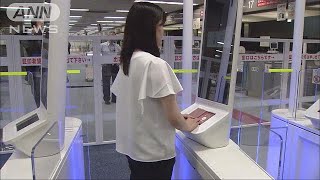 Japan's main international hub, Narita Airport, will start using facial recognition technology at immigration gates to shorten screening time and improve security.
(NHK)
---