Fifteen people were rushed to hospitals in the capital after choking on sticky mochi rice cakes on New Year's Day, with two of the victims later being confirmed dead, reports the Asahi Shimbun
According to the Tokyo Fire Department, emergency services transported a man in his 50s to a hospital in a state of cardiac arrest after he choked on such a cake in Ota Ward at around 2:30 p.m. He was later confirmed dead. In Edogawa Ward, a man in his 80s also died after choking on a cake.
Of the 13 other victims, seven were left in serious condition upon arrival at hospitals.
The mochi cakes are typically prepared to celebrate the New Year's holiday. Given that many citizens wind up blocking their windpipes with the glutinous cakes, the fire department regularly urges citizens to cut the cakes into smaller bite-size pieces and chew thoroughly before swallowing.
According to the department, 90 percent of the victims over the past five years have been over the age of 65.
元日の1日、東京都内の50代から90代の男女15人が餅を喉に詰まらせて病院に運ばれ、このうち2人が死亡しました。 午後2時半すぎ、東京・大田区で50代の男性が餅を喉に詰まらせたなどと119番通報がありました。男性は心肺停止の状態で病院に運ばれ、まもなく死亡しました。
Jun 20
Yuya Osako exacted sweet revenge for Japan on Tuesday as the Blue Samurai beat Colombia 2-1, becoming the first Asian side ever to beat a South American team at the World Cup.
(jacarandafm.com)
Jun 20
Japanese soccer fans have been celebrating their national squad's 2-1 win over Colombia in its first group match in the World Cup finals.
(NHK)
Jun 20
The head of a veterinary school operator at the center of a political scandal in Japan denies he ever had a meeting with Prime Minister Shinzo Abe to discuss a school project.
(NHK)
Jun 20
The House of Representatives passed a bill to introduce up to three casino-featuring integrated resorts in Japan at a plenary meeting Tuesday.
(Jiji)
Jun 20
The Japanese operator of a popular app that matches buyers and sellers of used goods has gone public.
(NHK)
Jun 19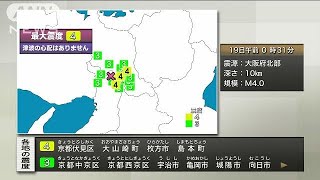 More than 20 tremors believed to be aftershocks of Monday's major earthquake have rattled the western Japanese prefecture of Osaka.
(NHK)
Jun 19
Police in Kitakyushu said Monday they have arrested a 27-year-old man on suspicion of fatally abusing his 4-year-son after he locked the boy inside a storage cabinet beneath a TV stand at their house.
(Japan Today)
Jun 19
The earthquake that struck western Japan on Monday morning battered the region's infrastructure, revealing the fragility of utility lifelines and transportation networks in one of the country's most densely populated areas.
(Nikkei)
Jun 18
A basketball referee was punched in the face by a high school player during a game in the western Japanese prefecture of Nagasaki on Sunday.
(NHK)
Jun 18
More than 2,000 venomous fire ants have been discovered in a shipping container from China that arrived at a port in Osaka Prefecture earlier this month, leaving two people hurt, government officials said.
(Japan Today)
---