Fifteen people were rushed to hospitals in the capital after choking on sticky mochi rice cakes on New Year's Day, with two of the victims later being confirmed dead, reports the Asahi Shimbun
According to the Tokyo Fire Department, emergency services transported a man in his 50s to a hospital in a state of cardiac arrest after he choked on such a cake in Ota Ward at around 2:30 p.m. He was later confirmed dead. In Edogawa Ward, a man in his 80s also died after choking on a cake.
Of the 13 other victims, seven were left in serious condition upon arrival at hospitals.
The mochi cakes are typically prepared to celebrate the New Year's holiday. Given that many citizens wind up blocking their windpipes with the glutinous cakes, the fire department regularly urges citizens to cut the cakes into smaller bite-size pieces and chew thoroughly before swallowing.
According to the department, 90 percent of the victims over the past five years have been over the age of 65.
元日の1日、東京都内の50代から90代の男女15人が餅を喉に詰まらせて病院に運ばれ、このうち2人が死亡しました。 午後2時半すぎ、東京・大田区で50代の男性が餅を喉に詰まらせたなどと119番通報がありました。男性は心肺停止の状態で病院に運ばれ、まもなく死亡しました。
Mar 22
Japanese Foreign Minister Taro Kono and his visiting Russian counterpart, Sergei Lavrov, agreed on Wednesday to accelerate talks on planned joint economic activities at the four disputed northwestern Pacific islands so that certain progress can be achieved when Japanese Prime Minister Shinzo Abe visits Russia possibly in late May.
(Jiji)
Mar 21
A female zookeeper at Ueno Zoological Gardens in Tokyo sustained injuries Tuesday after a gorilla bit her right arm, police said.
(Japan Today)
Mar 20
Police said Monday they have arrested three Taiwanese women for allegedly attempting to smuggle gold worth around 50 million yen ($470,000) into Japan in their bras.
(Japan Today)
Mar 20
The leaders of Japan and Russia have reaffirmed cooperation on planned joint economic projects on Russian-controlled islands claimed by Japan.
(NHK)
Mar 19
More than two decades after Japan's Aum Shinrikyo cult plunged Tokyo into terror by releasing a nerve agent on rush-hour subway trains, its spinoffs continue to attract new followers.
(Japan Today)
Mar 18
Tokyo Metropolitan Police plan to arrest a man claiming to be the former boyfriend of a woman found stabbed to death in Tama City on Friday, reports the Mainichi Shimbun
(tokyoreporter.com)
Mar 18
Investigative sources with law enforcement revealed on Saturday that popular adult video (AV) actress Nozomi Aso has been arrested again on drug-related charges, reports the Sankei Sports.
(tokyoreporter.com)
Mar 17
Japanese authorities have lowered volcanic alert levels for the 2 peaks of Mount Kusatsu-Shirane in Gunma Prefecture, more than 7 weeks after the volcano erupted.
(NHK)
Mar 17
A blackmail letter has been sent to a restaurant owned by Japanese Prime Minister Shinzo Abe's wife, Akie.
(NHK)
Mar 16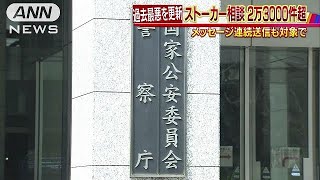 Police in Japan received a record-high number of inquiries and reports about stalking and domestic violence last year.
(NHK)
---