A Japanese man was stabbed to death and two other men were injured in separate attacks on the streets of Ireland Wednesday. Police investigating the incidents said terrorism is one line of inquiry.
Police said an 18-year-old Egyptian national has been arrested and detained at the Dundalk Police Station in the Republic of Ireland just south of the border with Northern Ireland.
The suspect has not been identified or charged. Police believe he had been seeking asylum in the Republic of Ireland in recent days.
Police did not release the name of the stabbing victim, but said he is a 24-year-old Japanese man who had been living in Ireland for the past year.
An autopsy is underway, police said.
The victim was attacked on the street and stabbed in the back Wednesday morning in Dundalk. He died at the scene. Media reports say the other injuries took place in other parts of Dundalk, with one person being stabbed and another attacked with an iron post.
Chief Superintendent Christy Mangan said police received emergency calls from three separate locations in the Dundalk area and were able to quickly apprehend the suspect, who was carrying a large fence post when taken into custody.
He added that the first attack was reported at about 9 a.m. local time, and the attacks were spread out over 40 minutes.
He said no motive has been established and that terrorism is being seen as one possibility.
アイルランドで3日、24歳の日本人男性が路上で背中を刃物で刺されて死亡しました。警察は事件に関与した疑いでエジプト人の男を拘束し、テロの可能性を含めて捜査しています。
Jun 20
Yuya Osako exacted sweet revenge for Japan on Tuesday as the Blue Samurai beat Colombia 2-1, becoming the first Asian side ever to beat a South American team at the World Cup.
(jacarandafm.com)
Jun 20
Japanese soccer fans have been celebrating their national squad's 2-1 win over Colombia in its first group match in the World Cup finals.
(NHK)
Jun 20
The head of a veterinary school operator at the center of a political scandal in Japan denies he ever had a meeting with Prime Minister Shinzo Abe to discuss a school project.
(NHK)
Jun 20
The House of Representatives passed a bill to introduce up to three casino-featuring integrated resorts in Japan at a plenary meeting Tuesday.
(Jiji)
Jun 20
The Japanese operator of a popular app that matches buyers and sellers of used goods has gone public.
(NHK)
Jun 19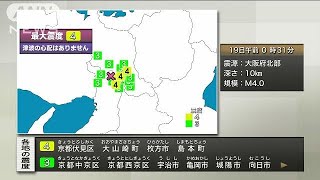 More than 20 tremors believed to be aftershocks of Monday's major earthquake have rattled the western Japanese prefecture of Osaka.
(NHK)
Jun 19
Police in Kitakyushu said Monday they have arrested a 27-year-old man on suspicion of fatally abusing his 4-year-son after he locked the boy inside a storage cabinet beneath a TV stand at their house.
(Japan Today)
Jun 19
The earthquake that struck western Japan on Monday morning battered the region's infrastructure, revealing the fragility of utility lifelines and transportation networks in one of the country's most densely populated areas.
(Nikkei)
Jun 18
A basketball referee was punched in the face by a high school player during a game in the western Japanese prefecture of Nagasaki on Sunday.
(NHK)
Jun 18
More than 2,000 venomous fire ants have been discovered in a shipping container from China that arrived at a port in Osaka Prefecture earlier this month, leaving two people hurt, government officials said.
(Japan Today)
---