Kumamoto Prefectural Police have arrested a 47-year-old man over the stabbing death of his father at their residence in Kumamoto City, reports TBS News
At around 12:40 p.m. on Tuesday, the body of 83-year-old Nobuyuki Uemura was found with stab wounds to the neck and several other locations at the residence, located in Nishi Ward, by his eldest son, a resident of Kagoshima Prefecture.
According to police, the victim shares the residence with his second son, Shinji, who was not present upon their arrival at the residence.
Early on Wednesday, police arrested Shinji on suspicion of murder after locating him near the crime scene. During questioning, he admitted to stabbing his father with a knife.
Police are now seeking to locate the murder weapon and determine a motive for the crime.
2日、熊本市の住宅で83歳の男性が死んでいるのが見つかった事件で、警察は同居していた次男を殺人の疑いで逮捕しました。 午後0時40分ごろ、熊本市の住宅で上村信之さんが居間で倒れているのを帰省した長男が見つけました。上村さんは首などを刃物のようなもので刺されていたということです。
Jun 20
Yuya Osako exacted sweet revenge for Japan on Tuesday as the Blue Samurai beat Colombia 2-1, becoming the first Asian side ever to beat a South American team at the World Cup.
(jacarandafm.com)
Jun 20
Japanese soccer fans have been celebrating their national squad's 2-1 win over Colombia in its first group match in the World Cup finals.
(NHK)
Jun 20
The head of a veterinary school operator at the center of a political scandal in Japan denies he ever had a meeting with Prime Minister Shinzo Abe to discuss a school project.
(NHK)
Jun 20
The House of Representatives passed a bill to introduce up to three casino-featuring integrated resorts in Japan at a plenary meeting Tuesday.
(Jiji)
Jun 20
The Japanese operator of a popular app that matches buyers and sellers of used goods has gone public.
(NHK)
Jun 19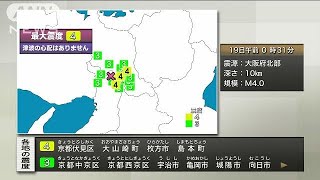 More than 20 tremors believed to be aftershocks of Monday's major earthquake have rattled the western Japanese prefecture of Osaka.
(NHK)
Jun 19
Police in Kitakyushu said Monday they have arrested a 27-year-old man on suspicion of fatally abusing his 4-year-son after he locked the boy inside a storage cabinet beneath a TV stand at their house.
(Japan Today)
Jun 19
The earthquake that struck western Japan on Monday morning battered the region's infrastructure, revealing the fragility of utility lifelines and transportation networks in one of the country's most densely populated areas.
(Nikkei)
Jun 18
A basketball referee was punched in the face by a high school player during a game in the western Japanese prefecture of Nagasaki on Sunday.
(NHK)
Jun 18
More than 2,000 venomous fire ants have been discovered in a shipping container from China that arrived at a port in Osaka Prefecture earlier this month, leaving two people hurt, government officials said.
(Japan Today)
---