Japanese investors became less enthusiastic about buying foreign bonds last year on growing concern about rising U.S. Treasury yields.
Japanese investors' net purchases of mid- to long-term foreign bonds nosedived 94.6% on the year to 1.1 trillion yen ($9.9 billion) in 2017, the Finance Ministry said Friday, marking the first annual decline in four years.
Institutional investors such as banks and life insurance companies had actively pursued foreign bonds in search of higher returns, finding few alternatives in Japan, where interest rates remained extremely low.
But the November 2016 election of Donald Trump as U.S. president sent the 10-year Treasury yield shooting up from around 1.8% to almost 2.6% in just over a month, and the yield stayed above 2% throughout 2017. Any investors holding onto Treasurys during the yield surge would have incurred significant losses as prices tumbled.
Jul 19
Temperatures rose further across Japan excluding northern regions on Wednesday, exceeding 40 degrees Celsius for the first time in five years, the Japan Meteorological Agency said.
(Jiji)
Jul 19
The schedule for the Tokyo Olympics has been broadly determined. Starting times of the marathon and other races along roads were moved forward in view of the hot summer weather.
(NHK)
Jul 19
The head of the International Monetary Fund says economic growth has started slowing in Japan and the euro zone.
(NHK)
Jul 19
The number of foreign tourists who visited Japan in the first half of this year hit a record high for the period.
(NHK)
Jul 19
The International Olympic Committee and organizing committee for the Tokyo Games failed to agree on what time the swimming finals will be held.
(NHK)
Jul 19
Prominent Japanese stage director Keita Asari died of malignant lymphoma in a Tokyo hospital on Friday. He was 85.
(Jiji)
Jul 18
More than a week after torrential rains in western Japan triggered landslides and flooding, over 200 people are dead and 16 are still missing.
(NHK)
Jul 18
A 36-year-old Filipino man arrested last year admitted Tuesday to raping and murdering a female university student in eastern Japan in January 2004.
(Japan Today)
Jul 18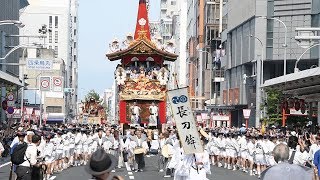 In Japan's ancient capital Kyoto, spectators braved sweltering heat to watch a series of colorfully decorated floats at the annual Gion festival on Tuesday.
(NHK)
Jul 18
Many retailers and consumers in Japan are welcoming the free trade pact with the European Union. They are expecting it to lower prices for a range of gourmet products and provide a boost to the economy.
(NHK)
---