Students and graduates of high schools across Japan are sitting the annual unified college and university entrance examinations.
The 2 days of tests began on Saturday. About 580,000 applicants this year take exams at 695 sites. The start of the exams was delayed by up to one hour at 7 venues due to heavy snowfalls and other reasons.
At a University of Tokyo campus in Bunkyo Ward, applicants began gathering shortly before 8 AM.
An 18-year-old student accompanied by her mother said she is anxious, but wants to do her best for her parents and teachers.
Another 18-year-old said he has is confident as he studied hard. He said he wants to be a civil servant in the field of education administration and needs to be accepted by the universities he has chosen.
The National Center for University Entrance Examinations says snow held up the exams at Niigata University and the Nippon Dental University. Delays to trains affected the test at the Yokohama National University and another site.
In the northern prefecture of Hokkaido, police ferried 4 students to an exam site by patrol car, as their trains were delayed in a rail crossing accident.
大学入試センター試験が全国の大学など約700の会場で始まりました。今年は58万2000人余りの受験生が試験に臨みます。
Sep 18
Overseas hackers are thought to have made off with information on Japan's maritime strategy in a March attack on specific people at national universities, which a Nikkei survey has found to be growing targets for their relatively lax security and sensitive knowledge.
(Nikkei)
Sep 15
The Japanese government set on Friday the new goal of cutting to zero the number of elementary school children waiting for receiving after-school care services by the end of fiscal 2021.
(Jiji)
Sep 12
Elderly men who go out less than once a week are more likely to suffer poor nutrition than those who leave their house more often, a health ministry survey for 2017 showed Tuesday.
(Jiji)
Sep 12
A survey by Japan's health ministry has found that the percent of people in the country who smoke has fallen to new lows.
(NHK)
Sep 11
For some time now, schools in Japan have been feeling the crunch of their aging society, and the plummeting number of potential students that come with it.
(Japan Today)
Sep 08
An explosion occurred at Kyushu University in the city of Fukuoka Friday morning and an unidentified human body was found in the debris, local police said.
(Japan Times)
Sep 08
The number of children on nursery waiting lists in Japan as of April 1 fell 6,186 from a year before to 19,895, the first drop in four years, the government said Friday.
(Jiji)
Sep 01
The life and times of Japan's first golfer: AMSTERDAM, 1606
(thesamuraigolfer.com)
Sep 01
More teenagers are becoming addicted to the internet with an estimated 930,000 junior high and high school students nationwide overusing online services, a health ministry team said Friday.
(Japan Times)
Aug 31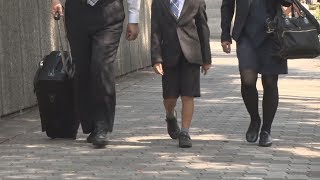 A high court upheld Thursday a lower court ruling that found constitutional a legal provision that allows only men to file lawsuits denying legal fatherhood, dismissing a damages suit filed by a family against the state.
(Japan Today)
---