Students and graduates of high schools across Japan are sitting the annual unified college and university entrance examinations.
The 2 days of tests began on Saturday. About 580,000 applicants this year take exams at 695 sites. The start of the exams was delayed by up to one hour at 7 venues due to heavy snowfalls and other reasons.
At a University of Tokyo campus in Bunkyo Ward, applicants began gathering shortly before 8 AM.
An 18-year-old student accompanied by her mother said she is anxious, but wants to do her best for her parents and teachers.
Another 18-year-old said he has is confident as he studied hard. He said he wants to be a civil servant in the field of education administration and needs to be accepted by the universities he has chosen.
The National Center for University Entrance Examinations says snow held up the exams at Niigata University and the Nippon Dental University. Delays to trains affected the test at the Yokohama National University and another site.
In the northern prefecture of Hokkaido, police ferried 4 students to an exam site by patrol car, as their trains were delayed in a rail crossing accident.
大学入試センター試験が全国の大学など約700の会場で始まりました。今年は58万2000人余りの受験生が試験に臨みます。
Jun 20
The number of suicides per population of 100,000 came to 16.8 in Japan in 2017, down for the eighth consecutive year, hitting the lowest level on records dating back to 1978, a government white paper showed on Tuesday.
(Jiji)
Jun 20
People in Japan are less satisfied with the child-rearing environment in the country than those in Britain, France and Sweden, a Japanese government white paper revealed Tuesday.
(Jiji)
Jun 20
An emerging number of Japanese schools are introducing genderless uniforms or flexible uniform codes in an effort to support lesbian, gay, bisexual and transgender students.
(Kyodo)
Jun 18
A basketball referee was punched in the face by a high school player during a game in the western Japanese prefecture of Nagasaki on Sunday.
(NHK)
Jun 18
An estimated 1.3 million Japanese people aged 15 to 64 have used marijuana, surpassing for the first time the number of those who have abused inhalants such as paint thinner, a survey by a national institute showed Sunday.
(Japan Today)
Jun 17
The life and times of Japan's first golfer: Amsterdam 1605
(thesamuraigolfer.com)
Jun 16
Princess Kako, a granddaughter of Emperor Akihito, has returned to Japan after studying in Britain for about 9 months.
(NHK)
Jun 14
The Japanese government said Wednesday it will provide financial assistance to households with children attending universities or other higher educational institutes if their annual income is less than 3.8 million yen.
(Jiji)
Jun 14
Japanese government votes to amend laws, bringing down age of legal adulthood but raising marrying age for women and gender reassignment surgery.
(soranews24.com)
Jun 13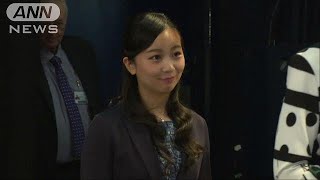 Princess Kako, granddaughter of Emperor Akihito and Empress Michiko, has completed a study program at the University of Leeds in England.
(Japan Times)
---