Tokyo stocks are continuing to plummet on Tuesday afternoon, following the overnight plunge in New York.
The benchmark Nikkei average briefly lost more than 1,600 points in midday trading.
May 26
The balance of foreign assets held by Japan as of the end of 2017 surpassed 1,000 trillion yen for the first time ever, a government report showed Friday.
(Jiji)
May 25
Chinese money is pouring into Hokkaido at a much greater scale than imagined. In his recent visit to the island prefecture, Chinese Premier Li Keqiang attended a forum of Japanese prefectural and Chinese provincial governors in Sapporo on May 11, but a Chinese diplomatic source said he was just using the meeting as an excuse for touring the island.
(Japan Times)
May 22
Social security costs in Japan are estimated to reach up to 190 trillion yen in fiscal 2040, when the number of people aged 65 or over is projected to peak, the government said Monday.
(Jiji)
May 19
Japan's lower house on Friday passed a bill to ratify the 11-nation Trans-Pacific Partnership free trade pact, paving the way for its enactment before the current Diet session ends in June.
(Japan Today)
May 19
The Japanese government has notified the World Trade Organization that it is prepared to take countermeasures against US tariffs on steel and aluminum.
(NHK)
May 19
The Japanese government cannot set a numerical goal for curbing annual growth in its social security spending from fiscal 2019 to 2021, informed sources said Friday.
(Jiji)
May 12
The Japanese government is considering setting a new target to reduce its fiscal deficit to 3 pct of nominal gross domestic product by fiscal 2021, informed sources said Friday.
(Jiji)
May 11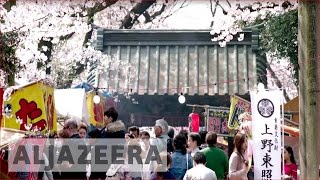 Japan's Finance Ministry says central government debt hit another record high at the end of the last fiscal year.
(NHK)
May 10
Japan's overall average wages in March increased 2.1 pct from a year before to 284,464 yen, up for the eighth consecutive month and posting the biggest growth since June 2003, the labor ministry said in a preliminary report on Wednesday.
(Jiji)
May 07
Private-sector analysts in Japan predict the country's GDP growth for this year's January to March period will be flat or lower than the previous quarter.
(NHK)
---