While in Japan, you absolutely should visit Hiroshima's Miyajima island, but while there, you definitely shouldn't do this.
Lots of sightseeing destinations in Japan come with some sort of qualifier. Akihabara should be on your itinerary if you like anime, for example, and you won't want to miss the town of Hakone if you're interested in onsen hot springs.
Hiroshima Prefecture's Miyajima, though, is absolutely worth visiting, regardless of what specifically drew you to Japan. The mountainous island is covered with centuries-old shrines and lush forests, and wild yet calm deer walk through the town where the ferry port is located. And then there's the sight of Itsukushima Shrine's torii gate rising from the waters of the bay, one of the most iconic views in all of Japan.
When the tide is low, you can actually walk all the way out to the base of the torii, where travelers routinely snap close-up photos of its orange-painted timbers.
But because the lower part of the gate spends much of the day underwater, the wood is cracked and warped in spots. Unfortunately, some tourists have taken to cramming coins into the cracks, creating an unsightly mess that can't be good for the torii.
Feb 19
Visitors to a village near Mount Fuji and its residents were rewarded with a dazzling spectacle on Monday.
(NHK)
Feb 18
People are enjoying the first signs of spring at an annual plum flower festival at the Kairakuen garden in Mito City, north of Tokyo.
(NHK)
Feb 17
The Royal Express is coming to Hokkaido, but if you can't wait, it's already running in the Tokyo area.
(soranews24.com)
Feb 16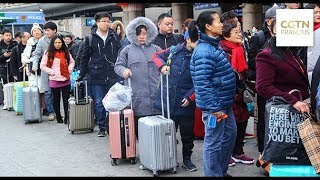 Reservations for travel overseas are surging for this year's 10-day Golden Week period, during which the Imperial succession is set to take place, according to a JTB Corp. official.
(Japan Times)
Feb 16
A fire broke out at a warehouse in Tokyo on Tuesday afternoon leaving three men dead and another man injured, while some flights at nearby Haneda airport were also disrupted by the incident.
(Kyodo)
Feb 15
Bullet train ticket machines have stopped working in many parts of Japan.
(NHK)
Feb 13
As spring approaches in Japan, the country's weather forecasters face one of their biggest missions of the year: predicting exactly when the famed cherry blossoms will bloom.
(straitstimes.com)
Feb 10
A cold snap hit Tokyo and its surrounding areas Saturday, causing cancellations of more than 100 domestic flights to and from the capital.
(Japan Times)
Feb 09
People in Sapporo shivered through frigid conditions on Friday as the city recorded a daytime high of minus 10.1 degrees Celsius, making it the first time in 40 years that the mercury has failed to reach minus 10.
(NHK)
Feb 07
Nara Park in Nara Prefecture is famous for its 1,000-plus-strong shika (native deer) population. These deer, considered to be messengers of the gods, are a national treasure and a protected species within the city's limits, due to their sacred connection to Nara's Kasuga Taisha Shrine.
(soranews24.com)
---