Pictograms on how to use Japanese electric toilets have been registered as a global standard, the government said Monday, in a step aimed at making such signs more familiar to the growing number of foreign tourists visiting the country.
Six kinds of pictograms -- showing instructions on which buttons to press when operating a high-tech Japanese toilets -- have been recognized by the International Organization for Standardization, according to the Ministry of Economy, Trade and Industry. The pictograms, designed by a Japanese industrial body of toilet makers, include those for "strong flush," "bidet" and "raise/lower the lid."
Aug 06
Hiroshima is marking the 75th anniversary of the world's first atomic bombing. A ceremony will be held Thursday morning at Peace Memorial Park in the western Japanese city.
(NHK)
Aug 06
Japan's daily number of confirmed coronavirus cases on Wednesday topped 1,300, remaining at high levels ahead of next week's summer holiday peak, with health authorities calling on people to be cautious when they travel to their hometowns and elsewhere.
(Kyodo)
Aug 06
Japanese holidaymakers should refrain from domestic travel and regional governments should act independently to contain a resurgence of coronavirus infections, the country's top doctors' association said on Wednesday.
(Japan Today)
Aug 06
Japanese drugstores were stripped bare of gargling solution by Wednesday, a day after the governor of Osaka Prefecture suggested it could help fight coronavirus, triggering panicked buying reminiscent of the early days of mask shortages.
(Japan Today)
Aug 06
The Japanese musical theater company Takarazuka Revue has extended the cancelation of its performances after three performers and one staff member tested positive for the coronavirus.
(NHK)
Aug 06
Sweltering heat continued in Japan on Wednesday. Weather officials are advising people to be cautious of heatstroke.
(NHK)
Aug 06
The population of Japan has fallen for the 11th straight year. The amount of the decline has set a record for six years in a row.
(NHK)
Aug 06
The average summer bonus at major Japanese companies this year dropped 2.17 percent from a year earlier to ¥901,147, a Japan Business Federation survey showed Wednesday.
(Japan Times)
Aug 06
Uber Technologies has begun to offer a food delivery subscription in Japan that replaces per-order fees, tapping into the growing demand from consumers holed up at home from the coronavirus.
(Nikkei)
Aug 05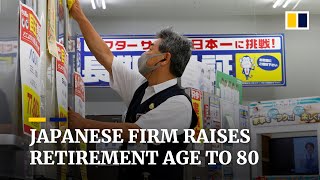 Japan's decision to offer an initial group of 87 companies subsidies totalling US$653 million to expand production at home and in Southeast Asia has sparked debate whether the world's third largest economy is trying to gradually decouple from China.
(scmp.com)
---