The head of the Bank of Japan says it will keep its monetary easing program in place in a bid to drive inflation up to 2 percent.
Governor Haruhiko Kuroda addressed a Diet committee on Friday following a government proposal to reappoint him to run the bank when his 5-year term ends in April.
Kuroda said he will cooperate with the government to help Japan overcome deflation and achieve the central bank's target of 2 percent inflation. He suggested the BOJ will consider additional easing measures if necessary.
But he also indicated that he will pay close attention to the negative effects of the easing policy.
Kuroda went on to say that BOJ policymakers expect inflation to reach 2 percent around fiscal 2019. He said at that time, they will consider a strategy to move away from the easing policy.
政府から日銀総裁の再任を提示されている黒田東彦総裁は、国会で「物価2%実現への総仕上げを果たすべく全力で取り組む」と大規模な金融緩和を続ける姿勢を示しました。
Sep 20
A policeman was stabbed to death by a knife-wielding man at a police box in the northeastern Japan city of Sendai early on Wednesday.
(Jiji)
Sep 20
The date of the wedding between Princess Ayako, the youngest daughter of Emperor Akihito's late cousin, and commoner Kei Moriya was officially set for Oct 29 in a traditional ceremony held Wednesday.
(Japan Today)
Sep 20
The estimated number of visitors to Japan in August rose 4.1 pct from a year earlier to 2,577,800, marking single-digit growth for the second consecutive month due to recent disasters in the country, the Japan National Tourism Organization said Wednesday.
(Jiji)
Sep 20
Bank of Japan Governor Haruhiko Kuroda said Wednesday that no change has been made to the central bank's resolve to attain its 2 pct inflation target at an early date.
(Jiji)
Sep 20
The 2020 Tokyo Olympic and Paralympic organizing committee adopted a plan on Tuesday to offer volunteers 1,000 yen per person a day as transportation expenses.
(Jiji)
Sep 19
Flight operations at Kansai International Airport in Osaka have been restored to about half the normal level, two weeks after a massive typhoon hit the island facility.
(NHK)
Sep 19
The government says the damaged access bridge for Kansai International Airport in Osaka, western Japan, will likely take around 8 months to fully repair.
(NHK)
Sep 19
Shinzo Abe is poised to win a third term as head of his political party on Thursday, putting him on track to become Japan's longest-serving prime minister and realize his dream of reforming the constitution.
(Japan Today)
Sep 19
The average land price in Japan as of July 1 increased 0.1 pct from a year before, the first rise since 1991, when the country's asset bubble era was ending, the land ministry said Tuesday.
(Jiji)
Sep 19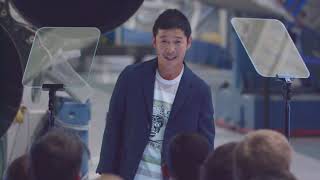 US spaceflight venture SpaceX says Japanese entrepreneur Yusaku Maezawa will become the first private passenger to fly around the Moon on its next-generation rocket.
(NHK)
---