The slide in a children's playground in Ehime, not suitable for children, will be no more after injuries and safety worries.
At what age do playgrounds stop being amazing places of pure adrenaline-fuelled excitement? As a small child, the roundabout threatens to send you flying off, as the centrifugal force lifts your feet up and you hang on for dear life. The swings and see-saws do their level best to launch you into the sky, possibly never to return. And the slide? The slide is tall beyond compare, the ride down at breakneck speeds as the wind bats against your face...for about three seconds.
Then there comes a time when the slide becomes less exciting, the sense of speed dulls, and playgrounds become tame. But it wasn't so for adventure-seekers in Ehime Prefecture on the island of Shikoku in Japan. Their 60-metre (200-foot) long slide in wet weather was enough to test the bravest soul. But no more.
According to news reports, the slide, which has been shut down temporarily in the past, is now being closed for good. After a temporary closure it was reopened again but in April last year a two-year-old child using the slide hit their head on a railing, and the slide was once again closed. While it reopened again after that, the city of Imabari has decided that they can't guarantee sliders' safety and so the slide will no longer be open to thrill-seekers, and is to replaced by a climbing rope wall aimed at six- to twelve-year-olds, which is probably less likely to go viral. The city official responsible for the closure had this to say: "As a symbol of our region, it's a pity it has to go. We did say we just wanted people to use it safely".
Aug 22
With the Rugby World Cup kicking off Sept. 20 in Japan, communities across the country are preparing for the 500,000-plus visitors expected to attend.
(Nikkei)
Aug 22
A Shinkansen bullet train made an emergency stop after one of its doors opened while speeding through northeastern Japan.
(NHK)
Aug 22
The number of South Korean tourists visiting Japan fell last month to its lowest in nearly a year as visitors canceled travel plans amid deteriorating relations between the neighbors, Japanese government data showed on Wednesday.
(Japan Times)
Aug 22
Japan's two largest opposition parties said Tuesday they will form a joint group in both houses of the Diet in an attempt to challenge the ruling bloc's dominance.
(Japan Today)
Aug 22
Tokyo Metropolitan Police have arrested a 50-year-old man over the alleged abduction of a middle school girl in order to molest her last month, reports TBS News (Aug. 21).
(tokyoreporter.com)
Aug 22
It has always been a mystery why Summer Sonic is not held in the relative cool of June or July, but at the very height of summer, when the August sun beats down upon the festival's outdoor stages or typhoons power through the country, threatening disruption and cancellations to the event's packed schedule.
(Japan Times)
Aug 21
Korean Air says it will suspend more flights from South Korea to Japan, due to lower travel demand amid worsening bilateral ties between the two countries.
(NHK)
Aug 21
Immigration authorities revoked a record 832 visas in 2018, more than double the figure of a year earlier, Justice Ministry data showed Monday.
(Japan Times)
Aug 21
Japan's Prince Hisahito has paid a courtesy call on the King and Queen of Bhutan.
(NHK)
Aug 21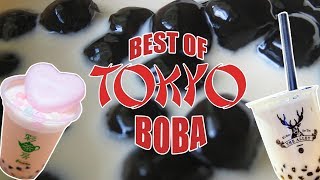 Japan's current bubble tea craze has sent tapioca imports soaring to meet the demand for the drink made with cold milk and tapioca balls.
(Asahi)
---