Tokyo Metropolitan Police have sent three persons, including a 16-year-old girl, to prosecutors over a stunt in which they uploaded footage of her having her chest fondled by passersby in front of JR Shibuya Station to YouTube, reports the Sankei Shimbun
On January 28, the girl, a first-year high school student living in Funabashi City, Chiba Prefecture, and one boy, 18, assembled at Hachiko Square with a sign that read, "Free Breasts." With the girl attired in a bunny suit, they then called out to passersby, telling them that they could "fondle her breasts on an all-you-want basis."
According to the Shibuya Police Station, the male suspect used a smartphone to film about 20 male and female passersby touching the chest of the girl. The footage was then uploaded to their YouTube channel. After the stunt became an online sensation, an investigation was launched.
The suspects, who have been accused of violating a public nuisance ordinance regarding vulgar conduct, admit to the allegations. "I wanted to increase advertising revenue by boosting the number of views," one of the suspects was quoted by police. "We became celebrities." A 23-year-old male film production employee was also accused of assisting the teens.
The case is not the first example of users of YouTube going to extremes to attract viewers. Last September, a man and his wife dropped a bag containing white powder in front of a policeman. They then created a movie documenting their escape. However, Fukui Prefectural Police later arrested them on suspicion of using deception to interfere with someone's duties.
東京・渋谷で通行人に自分の胸を触らせるなどしたとして、女子高校生ら3人が書類送検されました。
Sep 20
A policeman was stabbed to death by a knife-wielding man at a police box in the northeastern Japan city of Sendai early on Wednesday.
(Jiji)
Sep 20
The date of the wedding between Princess Ayako, the youngest daughter of Emperor Akihito's late cousin, and commoner Kei Moriya was officially set for Oct 29 in a traditional ceremony held Wednesday.
(Japan Today)
Sep 20
The estimated number of visitors to Japan in August rose 4.1 pct from a year earlier to 2,577,800, marking single-digit growth for the second consecutive month due to recent disasters in the country, the Japan National Tourism Organization said Wednesday.
(Jiji)
Sep 20
Bank of Japan Governor Haruhiko Kuroda said Wednesday that no change has been made to the central bank's resolve to attain its 2 pct inflation target at an early date.
(Jiji)
Sep 20
The 2020 Tokyo Olympic and Paralympic organizing committee adopted a plan on Tuesday to offer volunteers 1,000 yen per person a day as transportation expenses.
(Jiji)
Sep 19
Flight operations at Kansai International Airport in Osaka have been restored to about half the normal level, two weeks after a massive typhoon hit the island facility.
(NHK)
Sep 19
The government says the damaged access bridge for Kansai International Airport in Osaka, western Japan, will likely take around 8 months to fully repair.
(NHK)
Sep 19
Shinzo Abe is poised to win a third term as head of his political party on Thursday, putting him on track to become Japan's longest-serving prime minister and realize his dream of reforming the constitution.
(Japan Today)
Sep 19
The average land price in Japan as of July 1 increased 0.1 pct from a year before, the first rise since 1991, when the country's asset bubble era was ending, the land ministry said Tuesday.
(Jiji)
Sep 19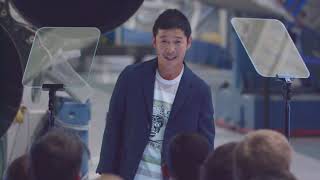 US spaceflight venture SpaceX says Japanese entrepreneur Yusaku Maezawa will become the first private passenger to fly around the Moon on its next-generation rocket.
(NHK)
---