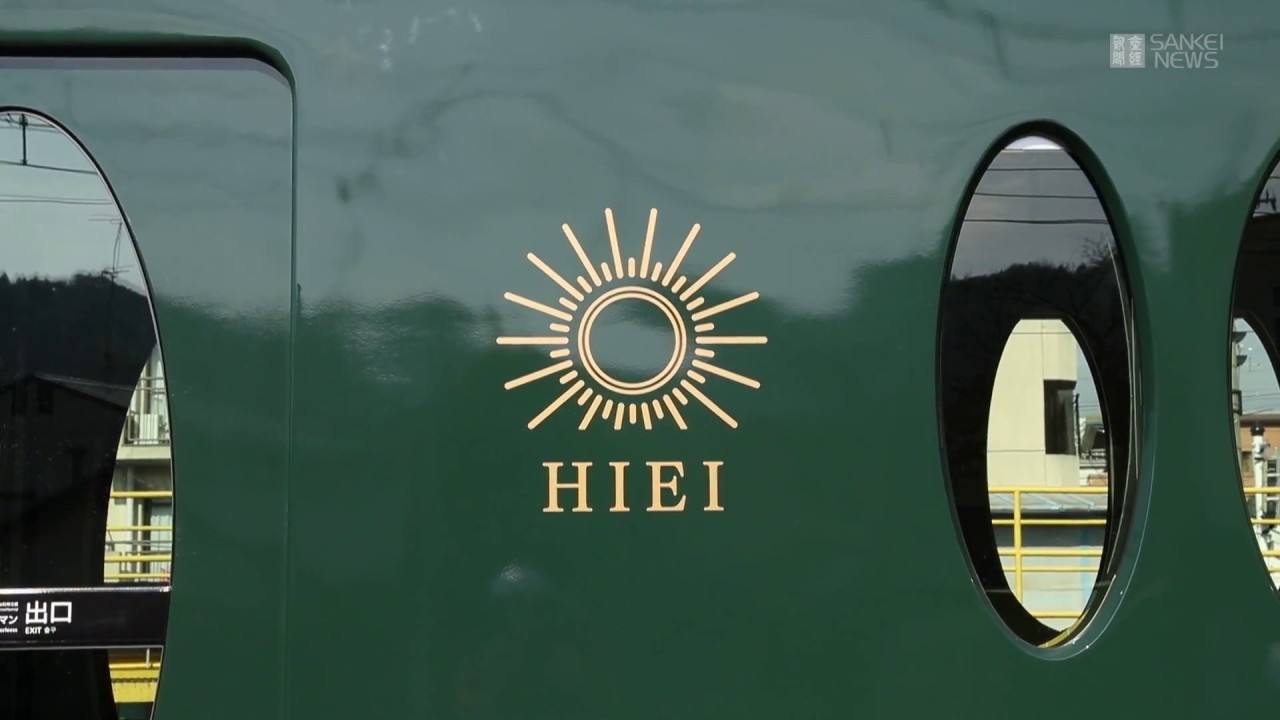 Railway fans have flocked to Kyoto for a debut of new train cars that will take tourists to the ancient Enryaku-ji Temple in Mount Hiei.
After a commemorative ceremony, the first train departed Demachi-yanagi Station of the Eizan Electric Railway on Wednesday morning as railway fans took photos.
The cars, nicknamed "Hiei," are painted deep green to reflect the rich natural environment of the mountain. The shape of oval is featured in various parts of the cars in a bid to reflect the mysterious atmosphere of the holy site.
A 47-year-old man from the neighboring prefecture of Osaka said he particularly likes the oval-shaped windows and is looking forward to take a ride as soon as possible.
The Hiei makes 19 round trips on weekdays, except Tuesdays, and 12 round trips on weekends and national holidays.
Mar 22
The cherry blossom season officially arrived in Tokyo on Thursday after officials from the Meteorological Agency confirmed that more than five blossoms had opened on a Somei-Yoshino cherry tree at Yasukuni Shrine in Chiyoda Ward.
(Japan Times)
Mar 21
Cherry trees came into bloom Wednesday in the southwestern prefecture of Nagasaki, the first blooming of the "Somei Yoshino" variety in Japan this spring, according to the Japan Meteorological Agency.
(Japan Today)
Mar 19
One of the most unusual stations in the whole country is now open and ready for business.
(soranews24.com)
Mar 17
An amusement park themed on the world of Finland's Moomin fairytale characters opened Saturday in Saitama Prefecture near Tokyo, aiming to attract 1 million visitors a year.
(Kyodo)
Mar 16
With so many maid cafes in Tokyo it can be hard to pick just one to visit if you're pressed for time and on a tight itinerary.
(soranews24.com)
Mar 15
Japan has temporarily banned all flights of Boeing 737 Max aircraft in the country's airspace.
(NHK)
Mar 09
Japanese Highway Service Areas or Rest Stops are quite amazing and in this episode we'll look at one of them that has a food challenge! Tomobe SA in Ibaraki Prefecture has a restaurant that has taken the highest mountain in the area and turned it into a dish.
(ONLY in JAPAN)
Mar 08
In Tokyo, the party can keep going all night, with bars, pubs, and clubs that stay open until the morning light. However, if you've got something else you'd like to do before sunrise, like, say, go home and get some sleep, you'll want to keep the time of your last train in mind while you're out partying.
(Japan Today)
Mar 08
Even hikers who have no intention of reaching the summit of Mount Fuji will be asked to make a donation of ¥1,000 for stepping foot on the country's highest mountain from this summer, local prefectures said Thursday.
(Japan Times)
Mar 06
An amusement park themed on the world of Finland's Moomin fairytale characters will open on March 16 in Saitama Prefecture, its operator said Tuesday.
(Japan Today)
---