Japanese macaques in Jigokudani valley, Nagano Prefecture, central Japan, take a dip in hot springs during the winter to relieve stress by warming themselves up, a research team has found.
The team including Rafaela Sayuri Takeshita, a researcher at Kyoto University's Primate Research Institute, made the finding through analyzing the excrement of the monkeys, which are famous for bathing in the hot springs at the Jigokudani Yaen-Koen park in the Nagano town of Yamanouchi.
A paper on the team's finding was published in an edition of the international journal Primates on Tuesday by the Japan Monkey Centre in Inuyama, Aichi Prefecture, central Japan.
As Japanese macaques, which are the world's northernmost-living monkeys and also known as snow monkeys, regularly soak in hot springs in winter, it has been assumed that they do so to warm themselves up.
On their analysis, the team said the results indicate that the snow monkeys bathe in the hot springs to reduce stress from the winter cold and raise the probability of their reproducing and surviving.
温泉に入るサルは気持ち良いと思っているのだろうか。最新の研究で彼らの本音が少しずつ明らかになってきた。 この表情がすべてを物語っていた。温泉や暖かいお風呂のえもいわれぬ心地よさは我々、人間が一番よく知っていることだ。サルよ、お前もか。
Mar 23
A key part of the business model for convenience stores is their round-the-clock service. But a shortage of staffers is prompting some operators to consider shrinking their business hours.
(NHK)
Mar 22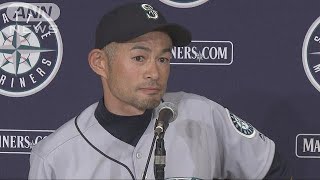 Japanese baseball legend Ichiro Suzuki of the US Major Leagues' Seattle Mariners has announced his retirement.
(NHK)
Mar 21
Cherry trees came into bloom Wednesday in the southwestern prefecture of Nagasaki, the first blooming of the "Somei Yoshino" variety in Japan this spring, according to the Japan Meteorological Agency.
(Japan Today)
Mar 21
Police on Wednesday arrested an American man on suspicion of fatally stabbing his Japanese wife at a court where they were to settle a divorce.
(Japan Today)
Mar 21
The unmanned space probe Hayabusa2 has detected small amounts of minerals containing water on the surface of the asteroid Ryugu, a Japanese research team has said.
(Japan Times)
Mar 20
The head of the Japanese Olympic Committee has announced he will step down when his term expires in June.
(NHK)
Mar 19
Japan's space probe operating on an asteroid some 340 million kilometers from Earth is preparing to study the asteroid's interior by creating an artificial impact crater.
(NHK)
Mar 19
Japanese rock singer Yuya Uchida died of pneumonia on Sunday. He was 79 years old.
(NHK)
Mar 16
Trains in and around the Japanese capital will run later into the night during the Tokyo 2020 Olympic Games to allow spectators to get home easily from events.
(NHK)
Mar 16
Chiba Prefectural Police on Friday announced the arrest of a 38-year-old man over the alleged theft of children's slippers from schools across the country, reports the Asahi Shimbun
(tokyoreporter.com)
---