A landslide occurred in the city of Nakatsu in the southwestern Japan prefecture of Oita early Wednesday morning, killing one man and leaving five others missing, police and other sources said.
Members of the Self-Defense Forces and the local fire department continued search and rescue operations. A man was found and confirmed dead in the afternoon.
According to an emergency call around 3:50 a.m. (6:50 p.m. GMT Tuesday), four houses in the Yabakei-machi district of the city were engulfed in dirt after the slope of a mountain behind them collapsed, authorities said.
According to the Oita prefectural police department's Nakatsu station, the mountain's collapsed portion measured 200 meters wide and 100 meters high. There were also rockfalls.
Six residents of three of the four houses were missing after the landslide.
11日に大分県中津市で起きた土砂崩れは1人が死亡し、5人の安否が分からないなか、徹夜の捜索が続いています。 11日、中津市で住宅の裏山が高さ100メートル、幅200メートルにわたって崩れ落ちました。住宅4棟が巻き込まれ、岩下義則さん(45)が遺体で見つかりました。
May 26
Temperatures rose across Japan on Saturday to highs usually not seen until the height of summer, causing hundreds of people to be taken to hospitals and prompting the weather agency to issue heatstroke warnings.
(Japan Today)
May 26
Japan's top trade negotiator with the United States has said both sides continue to differ on negotiations for a trade deal, adding that they need to work further to narrow the gap.
(NHK)
May 25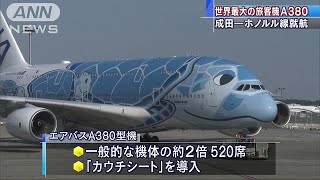 All Nippon Airways debuted flights of a double-decker Airbus A380 from Narita Airport north of Tokyo, bound for Hawaii on Friday.
(NHK)
May 24
Many parts of Japan saw the mercury top 30 degrees Celsius on Thursday. Weather officials are warning of unseasonal high temperatures over the weekend.
(NHK)
May 23
Kyoto Prefectural Police have arrested a 23-year-old male Australian national who is suspected of scrawling graffiti in dozens of locations in Kyoto City, reports Fuji News Network (May 22).
(tokyoreporter.com)
May 23
The International Olympic Committee says boxing is set to maintain its place in the 2020 Tokyo Games, but that the sport's international association should be excluded from organizing the events due to a number of problems.
(NHK)
May 23
Junnosuke Taguchi, a former member of Japanese boy band KAT-TUN, was arrested Wednesday on suspicion of possessing marijuana, the Narcotics Control Department said.
(Japan Times)
May 22
Tokyo DisneySea has begun its largest expansion project ever.
(NHK)
May 22
A Japanese government committee has decided on the route of a parade scheduled for October to celebrate the enthronement of Emperor Naruhito.
(NHK)
May 22
The Supreme Court and other legal professionals in Japan have hosted a symposium to mark the tenth anniversary of the introduction of the country's lay judge system.
(NHK)
---