A landslide occurred in the city of Nakatsu in the southwestern Japan prefecture of Oita early Wednesday morning, killing one man and leaving five others missing, police and other sources said.
Members of the Self-Defense Forces and the local fire department continued search and rescue operations. A man was found and confirmed dead in the afternoon.
According to an emergency call around 3:50 a.m. (6:50 p.m. GMT Tuesday), four houses in the Yabakei-machi district of the city were engulfed in dirt after the slope of a mountain behind them collapsed, authorities said.
According to the Oita prefectural police department's Nakatsu station, the mountain's collapsed portion measured 200 meters wide and 100 meters high. There were also rockfalls.
Six residents of three of the four houses were missing after the landslide.
11日に大分県中津市で起きた土砂崩れは1人が死亡し、5人の安否が分からないなか、徹夜の捜索が続いています。 11日、中津市で住宅の裏山が高さ100メートル、幅200メートルにわたって崩れ落ちました。住宅4棟が巻き込まれ、岩下義則さん(45)が遺体で見つかりました。
Mar 23
A key part of the business model for convenience stores is their round-the-clock service. But a shortage of staffers is prompting some operators to consider shrinking their business hours.
(NHK)
Mar 22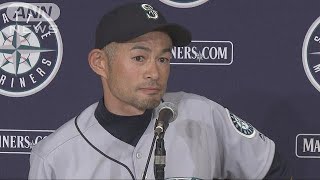 Japanese baseball legend Ichiro Suzuki of the US Major Leagues' Seattle Mariners has announced his retirement.
(NHK)
Mar 21
Cherry trees came into bloom Wednesday in the southwestern prefecture of Nagasaki, the first blooming of the "Somei Yoshino" variety in Japan this spring, according to the Japan Meteorological Agency.
(Japan Today)
Mar 21
Police on Wednesday arrested an American man on suspicion of fatally stabbing his Japanese wife at a court where they were to settle a divorce.
(Japan Today)
Mar 21
The unmanned space probe Hayabusa2 has detected small amounts of minerals containing water on the surface of the asteroid Ryugu, a Japanese research team has said.
(Japan Times)
Mar 20
The head of the Japanese Olympic Committee has announced he will step down when his term expires in June.
(NHK)
Mar 19
Japan's space probe operating on an asteroid some 340 million kilometers from Earth is preparing to study the asteroid's interior by creating an artificial impact crater.
(NHK)
Mar 19
Japanese rock singer Yuya Uchida died of pneumonia on Sunday. He was 79 years old.
(NHK)
Mar 16
Trains in and around the Japanese capital will run later into the night during the Tokyo 2020 Olympic Games to allow spectators to get home easily from events.
(NHK)
Mar 16
Chiba Prefectural Police on Friday announced the arrest of a 38-year-old man over the alleged theft of children's slippers from schools across the country, reports the Asahi Shimbun
(tokyoreporter.com)
---