An annual cherry blossom viewing event that is a famous spring feature in Osaka, held since 1883, began Wednesday at the Japan Mint headquarters.
Visitors snapped photos with their cameras and smartphones as the weeklong seasonal event opened at about 10 a.m., displaying 349 cherry trees of 134 different varieties along a roughly 560-meter path from the venue's south gate to north gate.
Mitsuo Itayama, a 79-year-old man from the city of Sakai, said, "I look forward to this event every year. I want to take time and see the beautiful cherry blossoms."
The Japan Mint selected as this year's cherry blossom prunus serrulata, or hill cherry, with a Japanese name meaning "big lantern," which boasts spherical large flowers.
The annual event has been staged for more than 130 years, uninterrupted except for during World War II and its aftermath. It offers free admittance and is open from 10 a.m. to 9 p.m. on weekdays and from 9 a.m. to 9 p.m. at the weekend.
大阪市北区の造幣局では春の風物詩「桜の通り抜け」が始まりました。 約560メートルの遊歩道に134種類もの桜が並び、見物客を出迎えます。造幣局が選ぶ今年の花は「大提灯」。ふっくらと丸い大きな花が提灯のようにぶら下がって咲くのが特徴です。
Nov 13
The Imperial Palace grounds in Tokyo will be partially opened to the public early next month for autumn foliage viewing.
(NHK)
Nov 10
Kyoto on Saturday will unveil a trial system that monitors, predicts and manages the flow of visitors to high-demand tourist spots, with the popular fall foliage viewing area in Arashiyama as the system's initial focus.
(Japan Times)
Nov 09
Kyoto, Japan. Think food. Lots of food! That's dining out in the city and Gion is the place to be at night. Tempura, Tofu, Ramen, Wagyu Steaks, Sushi, Sashimi, Sukiyaki, Grilled Fish ... it's endless!
(ONLY in JAPAN)
Nov 09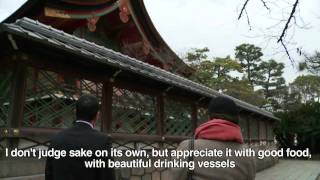 Kyoto, one of the most popular tourist destinations in Japan, is aiming to attract travelers to lesser-known spots to ease "overtourism" that has increased complaints among visitors and local people.
(Japan Today)
Nov 08
The transport ministry will prohibit passengers of all trains in Japan from carrying unpacked knives onto trains from next April under new security measures following a fatal stabbing on a shinkansen bullet train in June, officials said Tuesday.
(Japan Today)
Nov 07
Tokyo Electric Power Company Holdings Inc. has launched an English-language online virtual tour of the interior of the crippled Fukushima No. 1 power plant, allowing website visitors to check the progress of decommissioning work following the 2011 meltdowns --- one of the world's worst nuclear crises.
(Japan Times)
Nov 05
Local residents and tourists have flocked to a traditional autumn festival featuring colorful floats parading through Karatsu City, southwestern Japan.
(NHK)
Nov 02
Kyoto's Minamiza Theater, famed for Kabuki, reopened Thursday after around two years and nine months during which it was reinforced against earthquakes.
(Kyodo)
Nov 01
Tokyo's famous Shibuya district was flooded by costume-clad Halloween revelers on Wednesday, forcing police to dispatch several hundred officers in preparation for a possible repeat of the past weekend's antisocial behavior.
(Kyodo)
Oct 30
Far out to sea from the city of Tokyo, over 1,000 kilometers away are Tokyo's hidden islands called the Ogasawaras. Few tourists have ever heard of them. It's off the tourist radar.
(ONLY in JAPAN)
---