A wave of scandals rocking Prime Minister Shinzo Abe has alarmed the ruling bloc, leading some members to question whether Abe should be reelected Liberal Democratic Party president in an upcoming poll.
The government is on the defensive as new facts and suspicions emerge one after another over alleged favoritism and other scandals.
They include a suspected cover-up of activity logs of troops sent to Iraq and South Sudan, a discount sale of state-owned land to school operator Moritomo Gakuen, once linked with Abe's wife, Akie, falsification of Finance Ministry documents related to the land, and alleged favoritism tied to a plan to open a university faculty of animal medicine by a Kake Educational Institution, led by a friend of the prime minister.
Sharp criticism from LDP factions and coalition partner Komeito has pounded the government, adding to the difficulties facing Abe.
"The situation is getting worse and worse," said a source close to the prime minister.
Sep 21
US President Donald Trump has congratulated Japanese Prime Minister Shinzo Abe on his re-election as the leader of the main governing party.
(NHK)
Sep 21
Many challenges are awaiting Japanese Prime Minister Shinzo Abe as he won a third consecutive term as president of the ruling Liberal Democratic Party in an election on Thursday.
(Jiji)
Sep 20
Prime Minister Shinzo Abe was reelected president of Japan's ruling Liberal Democratic Party on Thursday, securing the continuation of his government for up to three more years.
(Jiji)
Sep 19
Shinzo Abe is poised to win a third term as head of his political party on Thursday, putting him on track to become Japan's longest-serving prime minister and realize his dream of reforming the constitution.
(Japan Today)
Sep 18
Japan's Maritime Self-Defense Force says one of its submarines took part in a drill in the South China Sea.
(NHK)
Sep 13
The Russian government has expressed readiness to open talks with Japan on President Vladimir Putin's proposal to sign a peace treaty by the end of the year without any preconditions.
(NHK)
Sep 13
Japan's prime minister and China's president say they'll work to improve relations. As part of that, Shinzo Abe told reporters he'll push ahead with plans to visit China next month. The two leaders met on the sidelines of an economic forum in eastern Russia.
(NHK)
Sep 11
The mayor of the eastern Japan town of Minakami tendered his resignation Monday after sexual harassment allegations against him have made the passage of a no-confidence motion in the local assembly almost inevitable.
(Japan Today)
Sep 08
Japanese Prime Minister Shinzo Abe and Shigeru Ishiba, former secretary-general of the ruling Liberal Democratic Party, filed their candidacies for the party's presidential election on Friday, at the start of its official campaign period.
(Jiji)
Sep 01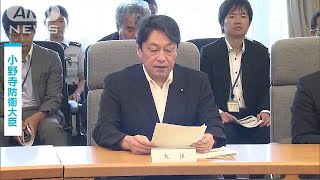 Japan's Defense Ministry plans to request a record budget to address security issues, such as North Korea's ballistic missile program and China's maritime activities.
(NHK)
---