Japan's population fell for the seventh straight year in 2017, with the native population dropping at a record pace, while the influx of foreign residents forestalled an even steeper decline.
The trend highlights a reality that few Japanese policymakers mention in public -- that foreigners are rapidly emerging as a key component of Japan's tight labor market.
The number of Japanese fell by 372,000 to 124.64 million as of October, according to data released Friday by the Ministry of Internal Affairs and Communications. The decline exceeded the 299,000 drop in 2016 and marked the fastest slide since the government began keeping records in 1950.
The drop was partly offset by an influx of foreign residents, whose number increased by 145,000 to 2.05 million as of October, as a serious labor shortage continued to push up demand for foreign workers. The figure has nearly doubled over the past 25 years, according to the Internal Affairs Ministry data.
Given Japan's low birthrate -- annual births in 2016 fell below 1 million for the first time since the government began collecting data in 1899 -- the decline in the native-born population is expected to accelerate. Japan's working age population is now only 60% of the total, down 10 percentage points from 1992.
While immigration remains broadly unpopular in Japan, policymakers are gradually expanding foreign participation in the labor market. Nikkei recently reported that the government is mulling a plan to allow foreign trainees to remain in the country for an additional five years. The new residency status will be introduced as early as April 2019.
Mar 20
As trade talks between Japan and the US look likely to start soon, and the price of oil drops in Japan, the value of the Yen is increasingly under threat of deflation.
(newsonjapan.com)
Mar 20
The average price of all types of land in urban areas rose last year for the first time since 1992 as the growing influx of foreign tourists rejuvenated real estate investment, the government said Tuesday.
(Japan Times)
Mar 19
The Japanese economy will likely once again be assessed as "recovering at a moderate pace" in the government's monthly report due out Wednesday, which also will note potential risks from overseas economies.
(Nikkei)
Mar 16
Japan will tighten oversight of pay for foreign employees through ordinances issued Friday, aiming to address major concerns over working conditions as the country prepares to accept more labor from abroad starting next month.
(Nikkei)
Mar 09
Since the 2008 global financial crisis, expansionary monetary policy has been the order of the day in most of the major advanced economies.
(Japan Times)
Mar 08
Chief Cabinet Secretary Yoshihide Suga denied a media report Thursday that the government is considering introducing a minimum wage for specific industrial sectors that would apply to workers nationwide, regardless of where they live.
(Japan Times)
Mar 04
The inflation outlook is looking dismal for the Bank of Japan as cheaper oil and falling mobile phone charges threaten to push price growth toward zero by mid-summer.
(Japan Times)
Mar 02
Japanese employees and companies are expected to continue shouldering a relatively high ratio of taxes to income. Officials say that on average, 42.8 percent of income will go to taxes and social welfare premiums in fiscal 2019.
(NHK)
Feb 26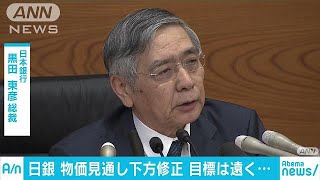 The Bank of Japan can abandon its 2 percent inflation target or suspend efforts to achieve it once the job market is tight enough because the public is better off having prices fall, not rise, an economic adviser to Prime Minister Shinzo Abe said.
(Japan Today)
Feb 21
Japan recorded its biggest trade deficit in almost five years in January, extending its run of red ink to a fourth month as exports to China tumbled.
(NHK)
---