Kumamoto Prefecture held a memorial service on Saturday for those who died in a string of powerful earthquakes that hit the southwestern Japan prefecture and nearby areas two years ago.
The earthquakes, which occurred from April 14, 2016, directly killed 50 people, including through building collapses, while 214 people have died of indirect causes including disease from prolonged evacuation life, according to prefecture.
The prefectural government's second-anniversary ceremony was attended by a total of 319 bereaved relatives, prefectural officials and others. The participants offered one-minute silent prayers for the victims, and renewed their pledges for reconstruction.
"For my family, the first step of recovery from the earthquakes is to rebuild our house," Ryoko Matsuno, 61, said in a speech during the ceremony.
In the disaster, she lost her mother, Misuko, then 84, and her family's house in the town of Mashiki was destroyed. Matsuno is still living in a temporary housing facility in the nearby city of Koshi.
熊本地震から14日で2年です。熊本県で犠牲者の追悼式が行われました。 熊本県庁で行われた追悼式には遺族や石井国土交通大臣、小此木防災担当大臣、そして、蒲島熊本県知事など約300人が参列し、犠牲者に黙祷(もくとう)を捧げました。
Mar 23
A key part of the business model for convenience stores is their round-the-clock service. But a shortage of staffers is prompting some operators to consider shrinking their business hours.
(NHK)
Mar 22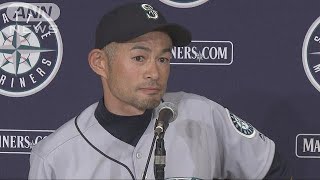 Japanese baseball legend Ichiro Suzuki of the US Major Leagues' Seattle Mariners has announced his retirement.
(NHK)
Mar 21
Cherry trees came into bloom Wednesday in the southwestern prefecture of Nagasaki, the first blooming of the "Somei Yoshino" variety in Japan this spring, according to the Japan Meteorological Agency.
(Japan Today)
Mar 21
Police on Wednesday arrested an American man on suspicion of fatally stabbing his Japanese wife at a court where they were to settle a divorce.
(Japan Today)
Mar 21
The unmanned space probe Hayabusa2 has detected small amounts of minerals containing water on the surface of the asteroid Ryugu, a Japanese research team has said.
(Japan Times)
Mar 20
The head of the Japanese Olympic Committee has announced he will step down when his term expires in June.
(NHK)
Mar 19
Japan's space probe operating on an asteroid some 340 million kilometers from Earth is preparing to study the asteroid's interior by creating an artificial impact crater.
(NHK)
Mar 19
Japanese rock singer Yuya Uchida died of pneumonia on Sunday. He was 79 years old.
(NHK)
Mar 16
Trains in and around the Japanese capital will run later into the night during the Tokyo 2020 Olympic Games to allow spectators to get home easily from events.
(NHK)
Mar 16
Chiba Prefectural Police on Friday announced the arrest of a 38-year-old man over the alleged theft of children's slippers from schools across the country, reports the Asahi Shimbun
(tokyoreporter.com)
---