Some cafes in Japan are offering college students simulated experiences, using virtual reality technology, of everyday life at work in a company.
The simulation takes the user through a day in the life of a company employee, moving beyond the explanations given at company information sessions. The content ranges from workplace atmosphere to the room layout of company dormitories and what the cafeteria is like.
The experience is expected to help students understand the gap between the ideal and the reality, as well as becoming a place for local firms to sell themselves to students in metropolitan areas.
The virtual reality system is available at Shiru Cafe outlets, which offer services specifically for students, near famous universities in Japan, including the University of Tokyo, Kobe University, Waseda University and Keio University.
Such cafes allow companies to promote themselves to students, in return for the firms becoming cafe sponsors.
May 20
Japanese Director Hirokazu Kore-eda's "Shoplifters" has won the Palme d'Or at the Cannes Film Festival.
(NHK)
May 19
The Japanese government has presented a plan to add the subject of information to university entrance examinations, in order to test skills such as programming.
(Jiji)
May 19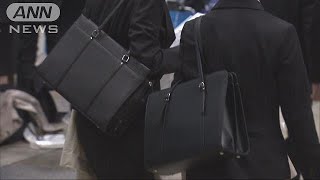 The employment rate for people who graduated from Japanese universities in spring this year came to 98.0 pct as of April 1, the highest since the survey started in 1997, the labor and education ministries said Friday.
(Jiji)
May 18
More than 90 percent of child abuse and sexual crime victims and their families didn't receive compensation from their assailants, nor public financial assistance, largely due to the lack of awareness on the consultation services available, police data showed Thursday.
(Japan Times)
May 15
Kyoto University has removed a number of signs put up by student groups around campus. But new ones protesting the removal were posted soon after.
(NHK)
May 14
Two high school girls died in a plunge from a building in Ashikaga City on Friday in what police are viewing as a double suicide, reports the Sankei Shimbun.
(tokyoreporter.com)
May 11
Japanese Crown Princess Masako has expressed her hope to inherit the Imperial tradition of sericulture from Empress Michiko, sources in the Imperial Household Agency said Thursday.
(Jiji)
May 11
Japan's Kyoto University has opened a large research base in the jungles of the Amazon basin in Brazil.
(Jiji)
May 10
Japan's Finance Ministry has held an in-house seminar on ways to prevent sexual harassment, following the recent resignation of the ministry's top bureaucrat.
(NHK)
---