Major Japanese companies have agreed to raise monthly employee pay by 8,621 yen, or 2.54 pct, on average so far during this year's "shunto" spring labor-management negotiations, the Japan Business Federation, or Keidanren, said Wednesday.
The result of the federation's initial survey for the year represented the biggest increase for such a survey since 8,800 yen in 1994. The percentage growth is close to 2.59 pct in 2015, topping 2.19 pct in 2016 and 2.18 pct in 2017.
This is the fifth consecutive year that the government has asked companies to raise wages in labor-management negotiations.
Based on Prime Minister Shinzo Abe's call for raising wages by at least 3 pct, Keidanren has asked its member companies to reach the requested level.
The initial survey, based on answers from 68 companies, showed that the average hike came to 15,445 yen, or 2.92 pct, among construction companies, 9,866 yen, or 2.91 pct, among automakers, and 8,814 yen, or 2.27 pct, among wholesalers and retailers, including department stores and supermarkets.
May 19
Japan's lower house on Friday passed a bill to ratify the 11-nation Trans-Pacific Partnership free trade pact, paving the way for its enactment before the current Diet session ends in June.
(Japan Today)
May 19
The Japanese government has notified the World Trade Organization that it is prepared to take countermeasures against US tariffs on steel and aluminum.
(NHK)
May 19
The Japanese government cannot set a numerical goal for curbing annual growth in its social security spending from fiscal 2019 to 2021, informed sources said Friday.
(Jiji)
May 12
The Japanese government is considering setting a new target to reduce its fiscal deficit to 3 pct of nominal gross domestic product by fiscal 2021, informed sources said Friday.
(Jiji)
May 11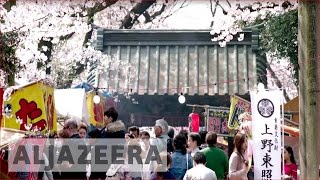 Japan's Finance Ministry says central government debt hit another record high at the end of the last fiscal year.
(NHK)
May 10
Japan's overall average wages in March increased 2.1 pct from a year before to 284,464 yen, up for the eighth consecutive month and posting the biggest growth since June 2003, the labor ministry said in a preliminary report on Wednesday.
(Jiji)
May 07
Private-sector analysts in Japan predict the country's GDP growth for this year's January to March period will be flat or lower than the previous quarter.
(NHK)
May 04
The Japanese government is considering setting a goal of turning the primary budget balance to a surplus around fiscal 2025, informed sources said on Wednesday.
(Jiji)
May 03
Corporate Japan is at a crossroads over domestic production as exchange rates, labor costs, automation and consumer tastes pull companies in opposing directions.
(Nikkei)
May 02
Thailand wants to join the Trans-Pacific Partnership "as soon as possible," Deputy Prime Minister Somkid Jatusripitak told visiting Japanese Economic and Fiscal Policy and Revitalization Minister Toshimitsu Motegi who is in charge of negotiations for the pact on Tuesday.
(Nikkei)
---