Executives at Japan's biggest carmaker Toyota Motor say the firm posted record sales and net profit for the fiscal year that ended in March.
Group sales jumped 6.5% year-on-year to 268 billion dollars, due to strong performance in China and Europe.
Net profit increased 36% to about 23 billion dollars, a windfall that executives attribute partly to a corporate tax cut by US President Donald Trump.
Toyota's president Akio Toyoda said the firm will continue to invest to drive future growth.
Toyoda said, "I believe the development of electric vehicles, self-driving technology and connectivity will expand the possibilities of the automobile. It will be an era when Toyota's strengths can be utilized more effectively."
But the road ahead contains some twists for Toyota, as executives predict both sales and profit will decline for the first time in 2 fiscal years.
They expect group sales to fall 1.3 percent amid sluggish demand in US and Japan and they forecast net profit will drop 15% as a stronger yen hits earnings from exports.
トヨタ自動車は、2017年度の最終利益が過去最高の約2兆5000億円だったと発表しました。売上高も約29兆4000億円で、過去最高となりました。 トヨタは、アメリカの税制改正の影響や原価の改善などにより、最終利益が前の年度に比べて約4割増となる2兆4939億円となりました。
Oct 20
Scandal-hit KYB Corp. on Friday disclosed the names of 70 government and municipal office buildings that used, or are suspected of having used, substandard earthquake shock absorbers in their construction.
(Japan Times)
Oct 18
The landmark Tokyo Skytree tower, facilities for the 2020 Tokyo Olympic and Paralympic Games and more government offices are among the nearly 1,000 buildings using earthquake shock absorbers produced by KYB Corp, which admitted cheating quality inspection data for more than a decade, officials said Wednesday.
(Japan Today)
Oct 17
An unmanned store using artificial intelligence instead of cashiers is set to open on a trial basis at a station in Tokyo.
(NHK)
Oct 13
The head of NHK said Friday the Japanese public broadcaster aims to lower its subscription fees, possibly from fiscal 2019, after a government panel made it a condition for the company to start simultaneous online streaming of its television programs.
(Japan Today)
Oct 12
Major Japanese retailer FamilyMart Uny Holdings Co. said Thursday it will make discount store operator Don Quijote Holdings Co. its affiliate in a deeper capital tie-up amid intensifying competition in the shrinking domestic retail market.
(Kyodo)
Oct 11
Accommodation service provider Airbnb says it will review its contract terms with private lodging operators in Japan.
(NHK)
Oct 11
A study group at the Ministry of Internal Affairs and Communications held its first meeting Wednesday, where it discussed ways to spur industry competition with the aim of lowering mobile phone fees in the nation.
(Japan Times)
Oct 10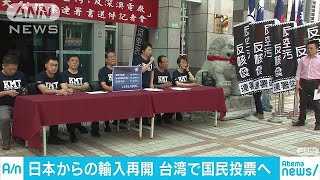 Taiwan will hold a referendum during local elections next month on whether to maintain a ban on food products from five Japanese prefectures imposed in the wake of the 2011 Fukushima nuclear disaster, the Central Election Commission said Tuesday.
(Japan Times)
Oct 05
Japanese telecom firm Softbank is partnering with Toyota for a venture that could help to usher in a new era of mobility. They want to use automated driving to transform the way people move around and the services they enjoy.
(NHK)
Oct 02
For anyone who is finding it difficult to quit smoking in a country which has been known as the smoking paradise, there is still hope. Aside from the smoking ban which has been recently adopted in Japan, there are a few ways to seek help, get nicotine substitutes, and be motivated to completely quit smoking. Let's take a look.
(newsonjapan.com)
---