The Japanese government is considering setting a new target to reduce its fiscal deficit to 3 pct of nominal gross domestic product by fiscal 2021, informed sources said Friday.
The government hopes to include the target in its new guidelines for economic and fiscal policy management due out as early as June, as it sees the possibility that its interest payments on existing bonds may shoot up.
The European Union has a similar target for its members. In Japan, such a target has been proposed at the government's Council on Economic and Fiscal Policy, which drafts the policy guidelines.
Japan's fiscal deficit is forecast to stand at 4.4 pct of nominal GDP in fiscal 2018, according to medium- to long-term economic and fiscal estimates submitted by the Cabinet Office in January this year.
The government agency projects that the percentage will stabilize below 3 pct from the early 2020s due to low interest rates and an expected rise in tax revenues following a planned October 2019 consumption tax hike.
Jul 14
More than three-quarters of Japanese women of prime age to start families are now in the workforce, signaling a break from the long-running trend of mothers quitting jobs to care for newborn babies.
(Nikkei)
Jul 13
Japan's government is counting on foreign workers to ease the labor shortage in a range of industries.
(NHK)
Jul 10
Japan expects a primary budget deficit of 2.4 trillion yen in fiscal 2025, even if the country's economy grows by 3 pct or higher annually in nominal terms without adjustment with prices, a Cabinet Office estimate showed Monday.
(Jiji)
Jul 06
The latest forecast from Japan's government sees GDP growing by about 1.5 percent in fiscal 2019. Officials expect the current recovery to continue even after the planned consumption tax hike to 10 percent in October 2019.
(NHK)
Jul 06
Personnel expenses at Japan's large corporations have grown to their highest level in 16 years as a deepening shortage of workers has forced them to increase pay for part-timers.
(Nikkei)
Jul 03
Areas popular with foreign tourists in Japan, such as Tokyo, Kyoto and Okinawa Prefecture, have enjoyed strong growth in land prices year on year, a government report showed Monday.
(Jiji)
Jul 03
Demand for new offices pulled up land values in Japan's largest cities, but the country is witnessing polarizing demand as rural areas that lack tourist attractions are left behind.
(Nikkei)
Jun 30
Japan's unemployment rate fell to the lowest level in more than 25 years in May in the latest sign of a strengthening economy, government data showed Friday, but rising job availability underscored the shortage of workers amid a shrinking population.
(Japan Today)
Jun 30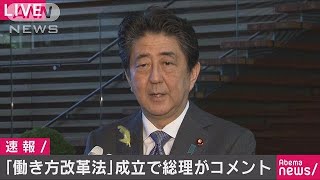 The Diet, Japan's parliament, enacted on Friday a work style reform bill that Prime Minister Shinzo Abe regards as the most important legislation in its ongoing session.
(Jiji)
Jun 30
Trading volume on the Tokyo Stock Exchange has slumped to the lowest level in 14 years, while Shanghai shares have fallen six weeks in a row, underscoring investor concern over U.S.-China tariff tensions.
(Nikkei)
---