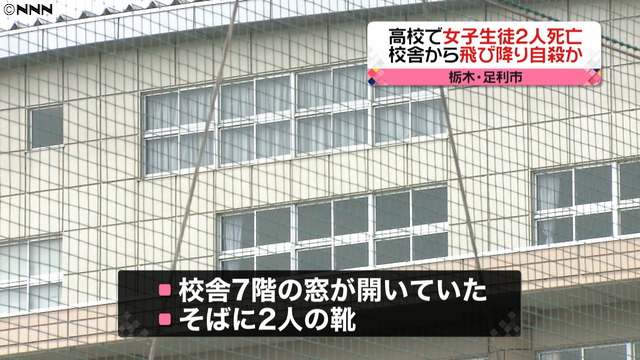 Two high school girls died in a plunge from a building in Ashikaga City on Friday in what police are viewing as a double suicide, reports the Sankei Shimbun.
At around 8:50 p.m., a member of the school's baseball team found the girls, both second-year students, collapsed on the grounds of the school after hearing a loud sound. They were both confirmed dead at a nearby hospital, according to police.
On the seventh floor of a building near where the discovery was made, shoes were found lined up — which often signifies that a person has committed suicide — at an open window, officials of the school said.
Officials added that the students attended class without incident earlier that day. However, a school staff meeting scheduled for the following day was to cover whether or not both girls had been bullied in the past.
"While cooperating with the police investigation, we would like to examine the reason for why the female students died," a representative of the school said, according to the Yomiuri Shimbun (May 13).
栃木県足利市の高校で、女子生徒2人が校舎の近くで血を流して倒れているのが見つかりました。2人はその後死亡し、警察は自殺とみて調べています。 11日午後9時前、足利大学付属高校で「女性2人が倒れている」と119番通報がありました。
Jan 12
At least one in eleven people identify as lesbian, gay, bisexual or transgender, according to a survey conducted by advertising giant Dentsu Inc., while more than two-thirds of respondents were familiar with the acronym LGBT.
(Kyodo)
Jan 09
A major Japanese weekly has apologized for using sexually degrading and discriminatory terms against women in part of an article on dating parties amid growing criticism shared in an online petition campaign.
(Kyodo)
Jan 06
A nine-year-old Japanese girl is set to become the youngest professional player of the Asian board game "Go."
(NHK)
Jan 01
The number of Japanese aged 20, the legal age of adulthood, on New Year's Day will be 1.25 million, up 20,000 from a year earlier, according to a government estimate released Monday.
(Japan Times)
Dec 28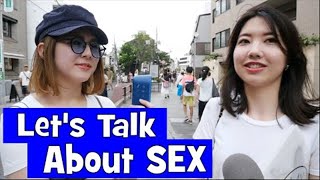 About 40 percent of those aged between 17 and 19 think sex education at school is useless, an online survey by the Nippon Foundation think tank showed Thursday.
(Japan Times)
Dec 27
A total of 210 teachers at public schools in Japan were disciplined over sexual behavior in fiscal 2017, which ended in March, according to an education ministry survey.
(Japan Times)
Dec 22
The estimated amount of babies born in Japan this year has dropped to the lowest number since comparable data became available in 1899, government figures showed Friday.
(Japan Times)
Dec 17
Japan's Chief Cabinet Secretary Yoshihide Suga has revealed that the government plans to open about 100 support centers for foreign workers across Japan.
(NHK)
Dec 16
The education ministry plans to include ¥1.52 trillion in its budget for fiscal 2019 to cover personnel costs for teachers at public elementary and junior high schools, it has been learned.
(Japan Times)
Dec 15
Japanese education companies are expanding their language offerings overseas, seeing business opportunities in meeting growing demand for Japanese-speaking foreign manpower as the nation opens its doors to workers from overseas.
(Nikkei)
---