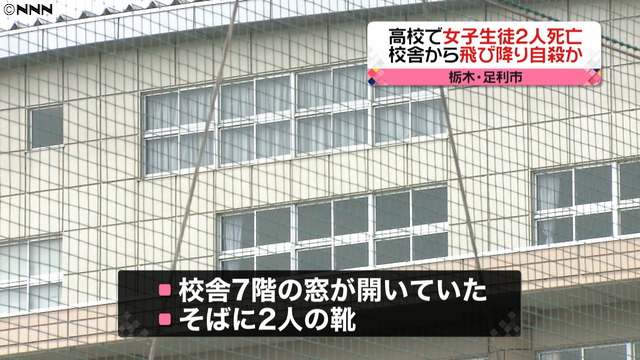 Two high school girls died in a plunge from a building in Ashikaga City on Friday in what police are viewing as a double suicide, reports the Sankei Shimbun.
At around 8:50 p.m., a member of the school's baseball team found the girls, both second-year students, collapsed on the grounds of the school after hearing a loud sound. They were both confirmed dead at a nearby hospital, according to police.
On the seventh floor of a building near where the discovery was made, shoes were found lined up — which often signifies that a person has committed suicide — at an open window, officials of the school said.
Officials added that the students attended class without incident earlier that day. However, a school staff meeting scheduled for the following day was to cover whether or not both girls had been bullied in the past.
"While cooperating with the police investigation, we would like to examine the reason for why the female students died," a representative of the school said, according to the Yomiuri Shimbun (May 13).
栃木県足利市の高校で、女子生徒2人が校舎の近くで血を流して倒れているのが見つかりました。2人はその後死亡し、警察は自殺とみて調べています。 11日午後9時前、足利大学付属高校で「女性2人が倒れている」と119番通報がありました。
Aug 20
Japan's education ministry is planning to place English-speaking artificial intelligence robots in schools to help children improve their English oral communication skills.
(NHK)
Aug 19
The life and times of Japan's first golfer: Amsterdam 1605
(thesamuraigolfer.com)
Aug 18
Education in Japan is specific and works on the principle of "quality study is a guarantee of a successful career." Every Japanese usually deserves only one attempt to take a worthy place in society. However, this system has its dark side as well.
(newsonjapan.com)
Aug 15
In a bid to save teachers from heavy workloads, the education ministry will compile by the end of next March guidelines on how to reduce their burden of collecting and managing school lunch fees, informed sources have said.
(Jiji)
Aug 10
The government plans to upgrade the Justice Ministry's Immigration Bureau to an affiliated agency in April next year in preparation for accepting more foreign workers, sources said Wednesday.
(Japan Times)
Aug 08
Tokyo Medical University has admitted to tampering with entrance exam scores to raise the bar for women and for men who failed such exams several times.
(NHK)
Aug 08
Kei Komuro, whose marriage to Japanese Princess Mako has been postponed, left Japan on Tuesday to study at Fordham University's law school in New York.
(Jiji)
Aug 03
Tokyo Medical University lowered scores of all female applicants in its general entrance examination for its School of Medicine held in February this year, informed sources said Thursday.
(Jiji)
Aug 03
Japan's driver's licenses will start to indicate their expiration date using the Western calendar instead of the Japanese calendar, a draft of revised traffic law regulations showed Thursday.
(Japan Times)
Jul 31
A university in Tokyo decided Monday it will dismiss two former coaches of its American football team over a dangerous late tackle by one of its players during an intercollegiate game in May that injured an opposing player.
(Japan Today)
---