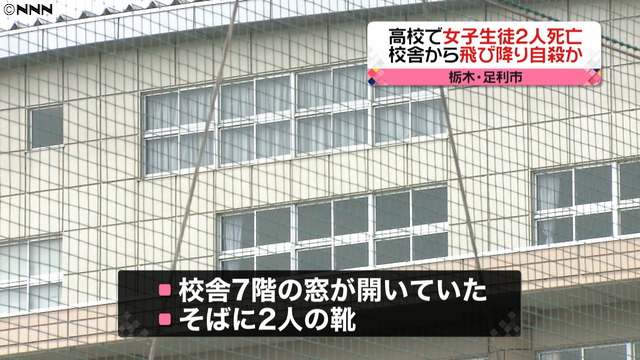 Two high school girls died in a plunge from a building in Ashikaga City on Friday in what police are viewing as a double suicide, reports the Sankei Shimbun.
At around 8:50 p.m., a member of the school's baseball team found the girls, both second-year students, collapsed on the grounds of the school after hearing a loud sound. They were both confirmed dead at a nearby hospital, according to police.
On the seventh floor of a building near where the discovery was made, shoes were found lined up — which often signifies that a person has committed suicide — at an open window, officials of the school said.
Officials added that the students attended class without incident earlier that day. However, a school staff meeting scheduled for the following day was to cover whether or not both girls had been bullied in the past.
"While cooperating with the police investigation, we would like to examine the reason for why the female students died," a representative of the school said, according to the Yomiuri Shimbun (May 13).
栃木県足利市の高校で、女子生徒2人が校舎の近くで血を流して倒れているのが見つかりました。2人はその後死亡し、警察は自殺とみて調べています。 11日午後9時前、足利大学付属高校で「女性2人が倒れている」と119番通報がありました。
Oct 17
Keisuke Fukuchi, the 2018 world champion of the Othello board game and the youngest ever at 11, was congratulated and surprised while on his return flight to Japan after the competition in Prague as the pilot revealed via intercom that he was the previous record holder.
(Kyodo)
Oct 16
The Imperial Household Agency said Monday it will jointly excavate Japan's largest ancient mounded tomb with a local government for the first time.
(Japan Times)
Sep 27
A record 103 Japanese universities made it onto this year's Times Higher Education (THE) World University Rankings list, with the nation's two top universities — the University of Tokyo and Kyoto University — moving up in the standings.
(Japan Times)
Sep 26
A medical school in Tokyo that recently admitted to rigging entrance exams to discriminate against women has approved its first female president.
(NHK)
Sep 21
A Japanese medical university mired in a bribery scandal and under fire for discriminating against female applicants is set to have its first woman president.
(NHK)
Sep 18
Overseas hackers are thought to have made off with information on Japan's maritime strategy in a March attack on specific people at national universities, which a Nikkei survey has found to be growing targets for their relatively lax security and sensitive knowledge.
(Nikkei)
Sep 12
A survey by Japan's health ministry has found that the percent of people in the country who smoke has fallen to new lows.
(NHK)
Sep 11
For some time now, schools in Japan have been feeling the crunch of their aging society, and the plummeting number of potential students that come with it.
(Japan Today)
Sep 08
An explosion occurred at Kyushu University in the city of Fukuoka Friday morning and an unidentified human body was found in the debris, local police said.
(Japan Times)
Sep 01
The life and times of Japan's first golfer: AMSTERDAM, 1606
(thesamuraigolfer.com)
---