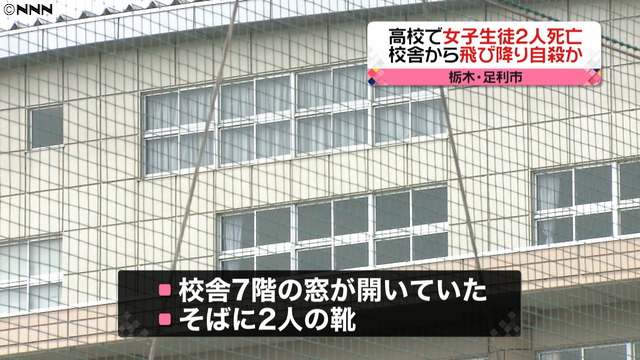 Two high school girls died in a plunge from a building in Ashikaga City on Friday in what police are viewing as a double suicide, reports the Sankei Shimbun.
At around 8:50 p.m., a member of the school's baseball team found the girls, both second-year students, collapsed on the grounds of the school after hearing a loud sound. They were both confirmed dead at a nearby hospital, according to police.
On the seventh floor of a building near where the discovery was made, shoes were found lined up — which often signifies that a person has committed suicide — at an open window, officials of the school said.
Officials added that the students attended class without incident earlier that day. However, a school staff meeting scheduled for the following day was to cover whether or not both girls had been bullied in the past.
"While cooperating with the police investigation, we would like to examine the reason for why the female students died," a representative of the school said, according to the Yomiuri Shimbun (May 13).
栃木県足利市の高校で、女子生徒2人が校舎の近くで血を流して倒れているのが見つかりました。2人はその後死亡し、警察は自殺とみて調べています。 11日午後9時前、足利大学付属高校で「女性2人が倒れている」と119番通報がありました。
May 24
Two graduate students have been arrested for sitting around a traditional Japanese heated table they set up at the center of a busy intersection in western Japan, police said Wednesday.
(Japan Today)
May 23
Restroom signs for lesbian, gay, bisexual and transgender, or LGBT, people have drawn an unexpected backlash from members of sexual minorities in Japan.
(Jiji)
May 22
Easy access by children to financial settlements by smartphone has left an increasing number of parents in Japan facing unexpected high bills.
(Jiji)
May 21
Search of suspect's home revealed 12 whistles, suggesting repeat offenses.
(soranews24.com)
May 20
Japanese Director Hirokazu Kore-eda's "Shoplifters" has won the Palme d'Or at the Cannes Film Festival.
(NHK)
May 19
The Japanese government has presented a plan to add the subject of information to university entrance examinations, in order to test skills such as programming.
(Jiji)
May 19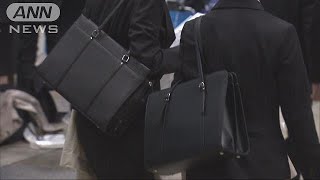 The employment rate for people who graduated from Japanese universities in spring this year came to 98.0 pct as of April 1, the highest since the survey started in 1997, the labor and education ministries said Friday.
(Jiji)
May 18
More than 90 percent of child abuse and sexual crime victims and their families didn't receive compensation from their assailants, nor public financial assistance, largely due to the lack of awareness on the consultation services available, police data showed Thursday.
(Japan Times)
May 15
Kyoto University has removed a number of signs put up by student groups around campus. But new ones protesting the removal were posted soon after.
(NHK)
---