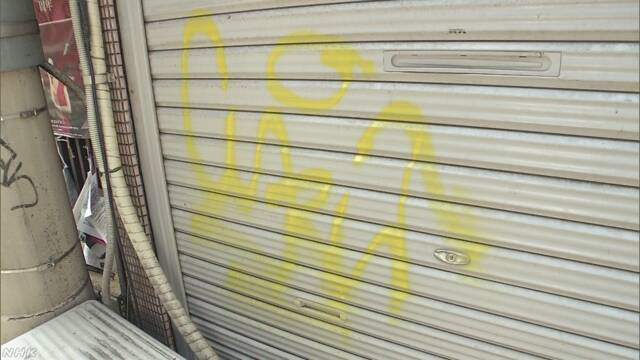 Tokyo Metropolitan Police have revealed that a man, believed to be a foreigner, eluded custody after being accused of spraying graffiti in Shinjuku Ward last week, reports NHK
At around 4:00 a.m. on May 8, the man was apprehended after being spotted spraying graffiti on a shutter in the Golden Gai area of bars and eateries.
However, after being delivered to a nearby police box, which is under the jurisdiction of the Yotsuya Police Station, the man fled when the attention of an officer was diverted.
At the time of the incident, there were three officers at the police box. One of them chased the alleged perpetrator. However, the officer eventually lost sight of him.
According to police, a number of establishments in Golden Gai have been damaged by graffiti in recent years. As result, shopkeepers have been tasked with removing the writing.
In addition to searching for the perpetrator, law enforcement will endeavor to prevent another instance of a suspect eluding custody, police said.
東京・歌舞伎町の飲食店に落書きをしたとみられる男を警視庁が任意同行した際、交番から男に逃げられていたことが分かりました。 8日、新宿区歌舞伎町のゴールデン街で飲食店のシャッターに男が落書きをしているのを通行人の男性が発見して取り押さえ、警察官に引き渡しました。
Jul 16
Japan's Prime Minister Shinzo Abe says the government will provide financial support to areas in western Japan that were hit hard recently by record-high rainfall.
(NHK)
Jul 16
Japanese authorities say 210 people have been confirmed dead and 22 remain missing after the recent record rainfall in the western part of the country.
(NHK)
Jul 15
People in western Japan are contending with scorching heat as they pick through the debris left by record rain, flooding and landslides.
(NHK)
Jul 14
Authorities say the death toll from the record rainfall that pounded western Japan has climbed to 193. Another 47 people are still missing. Authorities say 5 people are without vital signs.
(NHK)
Jul 14
A 22-year-old man who went on a rampage on a shinkansen (bullet train) last month, fatally stabbing one man and injuring two women, began a psychiatric evaluation on Friday. The Yokohama District Court ordered the examination to determine if the man is mentally competent to stand trial.
(Japan Today)
Jul 14
Emperor Akihito and Empress Michiko have cancelled their planned summer retreat north of Tokyo following last weekend's deadly torrential rain in western Japan, the Imperial Household Agency said Friday.
(Japan Today)
Jul 14
Tokyo Metropolitan Police have arrested a 22-year-old male resident of Yokohama who is alleged to have repeatedly molested a female university student across two municipalities earlier this year, reports TBS News
(tokyoreporter.com)
Jul 13
A small eruption has been confirmed on an uninhabited island in the Pacific around 1,000 kilometers south of Tokyo, the weather agency said Thursday.
(Kyodo)
Jul 13
Japan's Fair Trade Commission has accused the Japanese unit of global tech-giant Apple of possibly violating the anti-monopoly law by forcing major mobile service providers to give discounts on their iPhones.
(NHK)
Jul 12
Japan's population has fallen for 9 years in a row, while the capital, Tokyo, keeps growing.
(NHK)
---