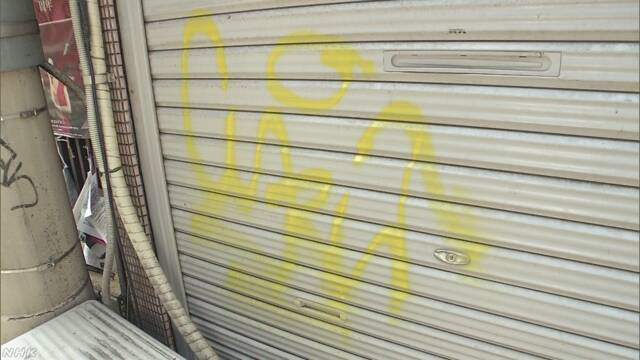 Tokyo Metropolitan Police have revealed that a man, believed to be a foreigner, eluded custody after being accused of spraying graffiti in Shinjuku Ward last week, reports NHK
At around 4:00 a.m. on May 8, the man was apprehended after being spotted spraying graffiti on a shutter in the Golden Gai area of bars and eateries.
However, after being delivered to a nearby police box, which is under the jurisdiction of the Yotsuya Police Station, the man fled when the attention of an officer was diverted.
At the time of the incident, there were three officers at the police box. One of them chased the alleged perpetrator. However, the officer eventually lost sight of him.
According to police, a number of establishments in Golden Gai have been damaged by graffiti in recent years. As result, shopkeepers have been tasked with removing the writing.
In addition to searching for the perpetrator, law enforcement will endeavor to prevent another instance of a suspect eluding custody, police said.
東京・歌舞伎町の飲食店に落書きをしたとみられる男を警視庁が任意同行した際、交番から男に逃げられていたことが分かりました。 8日、新宿区歌舞伎町のゴールデン街で飲食店のシャッターに男が落書きをしているのを通行人の男性が発見して取り押さえ、警察官に引き渡しました。
Mar 20
The head of the Japanese Olympic Committee has announced he will step down when his term expires in June.
(NHK)
Mar 19
Japan's space probe operating on an asteroid some 340 million kilometers from Earth is preparing to study the asteroid's interior by creating an artificial impact crater.
(NHK)
Mar 19
Japanese rock singer Yuya Uchida died of pneumonia on Sunday. He was 79 years old.
(NHK)
Mar 16
Trains in and around the Japanese capital will run later into the night during the Tokyo 2020 Olympic Games to allow spectators to get home easily from events.
(NHK)
Mar 16
Chiba Prefectural Police on Friday announced the arrest of a 38-year-old man over the alleged theft of children's slippers from schools across the country, reports the Asahi Shimbun
(tokyoreporter.com)
Mar 15
Prime Minister Shinzo Abe suggested Thursday he has no intention of serving another four-year term as president of the ruling Liberal Democratic Party when his third term expires in September 2021.
(Japan Times)
Mar 15
A 46-year-old woman has been arrested on suspicion of strangling to death her six-year-old daughter at their home in Tokyo's Itabashi Ward.
(Japan Today)
Mar 14
Two 12-year-old elementary school students apparently jumped to their deaths from an apartment building in Aichi Prefecture on Tuesday, leaving notes suggesting that they were being bullied, according to investigative sources.
(Japan Times)
Mar 13
With 500 days to go until the start of the 2020 Tokyo Olympic Games, the organizing committee has unveiled 50 pictograms of the 33 sports being held.
(NHK)
Mar 13
Three former executives of Tokyo Electric Power Company have pleaded not guilty to professional negligence in connection with the 2011 nuclear crisis at the Fukushima Daiichi power plant.
(NHK)
---