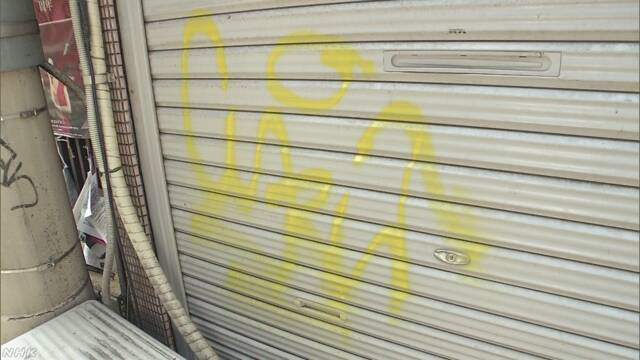 Tokyo Metropolitan Police have revealed that a man, believed to be a foreigner, eluded custody after being accused of spraying graffiti in Shinjuku Ward last week, reports NHK
At around 4:00 a.m. on May 8, the man was apprehended after being spotted spraying graffiti on a shutter in the Golden Gai area of bars and eateries.
However, after being delivered to a nearby police box, which is under the jurisdiction of the Yotsuya Police Station, the man fled when the attention of an officer was diverted.
At the time of the incident, there were three officers at the police box. One of them chased the alleged perpetrator. However, the officer eventually lost sight of him.
According to police, a number of establishments in Golden Gai have been damaged by graffiti in recent years. As result, shopkeepers have been tasked with removing the writing.
In addition to searching for the perpetrator, law enforcement will endeavor to prevent another instance of a suspect eluding custody, police said.
東京・歌舞伎町の飲食店に落書きをしたとみられる男を警視庁が任意同行した際、交番から男に逃げられていたことが分かりました。 8日、新宿区歌舞伎町のゴールデン街で飲食店のシャッターに男が落書きをしているのを通行人の男性が発見して取り押さえ、警察官に引き渡しました。
Dec 12
Japan is seeking to possess its first aircraft carrier to allow for the deployment of U.S.-made stealth fighters as it seeks to bolster its arms capability under a new 10-year defense plan.
(Japan Today)
Dec 12
A court in Beijing has sentenced a Japanese man in his 70s who was arrested in China in June 2015 to 12 years in prison for spying, sources well-informed about Sino-Japanese relations said Tuesday.
(Japan Today)
Dec 11
Major Japanese restaurant chain Gusto on Monday stopped providing plastic straws at its 1,300 locations nationwide.
(NHK)
Dec 11
Prosecutors sought a 23-year prison term for a 26-year-old man on Monday over an alleged road-rage incident near Tokyo last year that left a couple dead and their children injured.
(Japan Times)
Dec 11
Winter bonuses at Japanese companies averaged an all-time high of 834,391 yen ($7,400) this year, according to a Nikkei survey released Monday, notching a sixth straight year of growth on strong corporate earnings.
(Nikkei)
Dec 10
Saitama Prefectural Police have arrested a 39-year-old man over the stabbing of three Cambodian nationals at an apartment building in Hanyu City on Saturday, reports NHK
(tokyoreporter.com)
Dec 09
A Chinese court has sentenced a Japanese woman to six years in prison for spying, a source privy to bilateral relations said Saturday.
(Japan Today)
Dec 09
Gunma Prefectural Police have arrested a staff member for the National Police Agency over the alleged rape of a 12-year-old girl he met online earlier this year, reports the Sankei Shimbun
(tokyoreporter.com)
Dec 07
The US Marine Corps says one of the 2 crewmembers rescued after a mid-air collision between 2 US military aircraft off Japan's western coast is dead.
(NHK)
Dec 06
Four men in their 20s were arrested Wednesday for allegedly overturning a small truck during a Halloween event in late October in the busy Shibuya district of Tokyo, police said.
(Japan Today)
---