More than 90 percent of child abuse and sexual crime victims and their families didn't receive compensation from their assailants, nor public financial assistance, largely due to the lack of awareness on the consultation services available, police data showed Thursday.
The National Police Agency analyzed the answers of 917 respondents who said they were crime victims — as well as family members of victims — in an online survey conducted between Jan. 19 and 28 that focused on men and women aged 20 or older.
The survey, conducted with the aim of following up with past victims and incorporating their experiences into national policies, covered six types of crimes; violent crimes including murder and assault, sexual crimes, traffic incidents, domestic violence, stalking, and child abuse.
According to the data, the proportion of victims who didn't receive compensation or financial aid stood at 94.2 percent in child abuse cases, followed by sexual crimes at 92.9 percent, domestic violence at 91.1 percent and stalking at 90.2 percent.
The state provides lump sum benefits for bereaved families of victims, or those who were seriously injured or disabled in criminal cases.
An NPA official believes a lot of victims are compelled to suffer in silence and tend to go unnoticed, as many respondents also said they did not report their cases to the police.
Dec 10
Japan is set to extend the copyright period on works such as novels and paintings to 70 years after the authors' deaths from the current 50 years, effective Dec. 30, when the revised copyright law goes into force.
(Japan Times)
Dec 01
The Japanese government says children born to foreigners in the country on a proposed skilled worker visa could receive resident status, even though the visa would, in principle, bar the workers from bringing family members to Japan.
(NHK)
Nov 30
The artistic commercial secured a Grand Prix win as well as a gold award for the film category.
(soranews24.com)
Nov 29
Ten traditional rituals of Japan featuring people in masks and costumes are expected to be added to the list of UNESCO's Intangible Cultural Heritage.
(NHK)
Nov 26
The hotel industry will be listed as lying within the scope of the type two trainee status under the government's technical intern training program for foreign nationals, officials have said.
(Japan Times)
Nov 24
While the human interaction that's the primary focus of the Japanese Association for Sex Education is right there in the organization's name, its researchers realize that intercourse usually isn't something that occurs without some sort of buildup of attraction and affection.
(soranews24.com)
Nov 23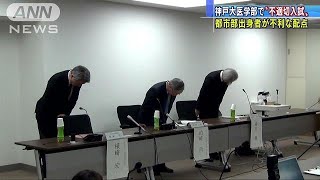 Tokyo Medical University has been stripped of its accreditation, following recent revelations that the university rigged entrance examinations against female and older applicants.
(NHK)
Nov 15
Japan will help countries in the Association of Southeast Asian Nations groom 80,000 manufacturing and digital industry specialists over five years, part of a broader effort by Tokyo toward cooperation in the Indo-Pacific region.
(Nikkei)
Nov 08
Tokyo Medical University will admit applicants who were rejected in 2017 and 2018 due to a rigged admission process, if they still wish to attend the school, sources familiar with the matter said Tuesday.
(Japan Today)
Nov 07
Suicides by Japanese youth have reached a 30-year-high, the education ministry said on Monday, even as overall suicide numbers have steadily declined over the past 15 years.
(Japan Today)
---