Japan's Imperial Household Agency unveiled a portrait of Emperor Akihito and Empress Michiko on Monday. This is the first time the couple's portrait was created with their approval.
The oil painting was produced by Hiroshi Noda, a leading artist of realism. It was completed in January and delivered to the Imperial Palace in March.
In the artwork painted on a canvas 2 meters in both length and width, the Emperor stands on the left and the Empress half a step behind him on the right.
Eighty-one-year-old Noda has been close to the couple since they were crown prince and princess.
The agency says the idea of the Imperial portrait was raised 8 years ago. Noda produced the painting based on a photo taken 4 years ago.
He realistically depicted the texture of the couple's skin, clothes and the wall in the background.
The agency says the Emperor and Empress are delighted with the painting.
Noda says he is honored to have been allowed to produce the portrait. He also says he struggled to depict the couple on the canvas, but he did his best.
宮内庁は、天皇皇后両陛下の肖像画が完成したと発表しました。 この肖像画は、縦横2メートルの正方形のキャンバスに日本の写実絵画の第一人者である野田弘志さんが油絵で描いた作品です。
May 26
Temperatures rose across Japan on Saturday to highs usually not seen until the height of summer, causing hundreds of people to be taken to hospitals and prompting the weather agency to issue heatstroke warnings.
(Japan Today)
May 26
Japan's top trade negotiator with the United States has said both sides continue to differ on negotiations for a trade deal, adding that they need to work further to narrow the gap.
(NHK)
May 26
US President Donald Trump is scheduled to spend a full day with Prime Minister Shinzo Abe on Sunday, ahead of their summit on Monday.
(NHK)
May 26
In sumo, rank-and-file wrestler Asanoyama has clinched his first tournament title.
(NHK)
May 25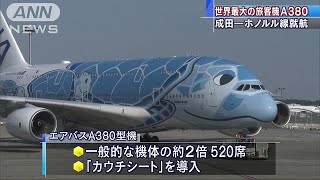 All Nippon Airways debuted flights of a double-decker Airbus A380 from Narita Airport north of Tokyo, bound for Hawaii on Friday.
(NHK)
May 24
The government will no longer use the term "lifelong singles" as a label for people who have not married by age 50, deeming the term inaccurate as Japanese are increasingly tying the knot later in life, officials said Thursday.
(Japan Today)
May 24
Many parts of Japan saw the mercury top 30 degrees Celsius on Thursday. Weather officials are warning of unseasonal high temperatures over the weekend.
(NHK)
May 24
Police in Japan are stepping up security for an upcoming visit by US President Donald Trump.
(NHK)
May 24
Japan's new supercomputer Fugaku is set to begin operations around 2021 with the country aiming to regain the title of building the world's fastest computer, replacing its current supercomputer K, government-backed research institute Riken said Thursday.
(Japan Times)
May 23
Kyoto Prefectural Police have arrested a 23-year-old male Australian national who is suspected of scrawling graffiti in dozens of locations in Kyoto City, reports Fuji News Network (May 22).
(tokyoreporter.com)
---