The balance of foreign assets held by Japan as of the end of 2017 surpassed 1,000 trillion yen for the first time ever, a government report showed Friday.
The yen-denominated value of assets held by the Japanese government, private-sector companies and individuals abroad went up 2.7 pct from a year earlier to 1,012,431 billion yen, according to the report, which was submitted to the day's cabinet meeting by Finance Minister Taro Aso.
The rise reflected an increase of foreign direct investment by Japanese companies such as plant construction.
Japan's external liabilities, which show the balance of foreign investment in Japan, rose 5.2 pct to 683,984 billion yen, thanks to hikes in Japanese stock prices.
The country's net foreign assets, or assets minus liabilities, fell 2.3 pct to 328,447 billion yen.
Sep 20
Bank of Japan Governor Haruhiko Kuroda said Wednesday that no change has been made to the central bank's resolve to attain its 2 pct inflation target at an early date.
(Jiji)
Sep 19
The average land price in Japan as of July 1 increased 0.1 pct from a year before, the first rise since 1991, when the country's asset bubble era was ending, the land ministry said Tuesday.
(Jiji)
Sep 17
The number of one-yen coins in circulation has fallen sharply in Japan, as consumers increasingly choose cashless payments with electronic money or credit cards.
(Jiji)
Sep 17
Despite a much-heralded debut 18 years ago, 2,000-yen bills failed to find wide appeal, leaving them seldom sighted recently.
(Jiji)
Sep 15
Some 60 pct of Japanese people are positive about a government plan to expand the intake of foreign workers by introducing new five-year resident status for them next April, the results of a recent Jiji Press survey suggested.
(Jiji)
Sep 11
Japanese Prime Minister Shinzo Abe and Russian President Vladimir Putin have concluded their meeting in Russia's Far East. They agreed to draw up a schedule of joint economic projects on the islands known as the Northern Territories.
(NHK)
Sep 08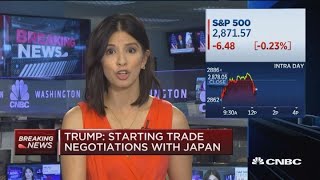 US President Donald Trump has pressured Japan to reduce its trade deficit with the US.
(NHK)
Sep 08
Japan's price-adjusted real wage index in July rose 0.4 pct from a year before, up for the third consecutive month, the labor ministry said in a preliminary report Friday.
(Jiji)
Sep 06
Japan's main gateway for Asian tourists, Kansai International Airport, has remained shut down in the wake of Typhoon Jebi, threatening to disrupt the growing tourism that has been a key engine of the Osaka-area economy.
(Nikkei)
Sep 06
The Japanese government's recent push for mobile phone carriers to lower their service fees has vexed the Bank of Japan, which fears another drag on already sluggish inflation.
(Nikkei)
---