A senior official of the Kobe Board of Education instructed a junior high school principal to cover up interview-based memos that proved a student who committed suicide in 2016 was bullied.
The memos were produced chiefly by teachers when interviewing six students and were kept at the school in Tarumi Ward for five days after the 14-year-old girl killed herself, the board of education told a news conference Sunday, citing an investigative report by lawyers.
According to the report, the school's principal told the girl's family in March last year that the memos did not exist when they asked for information. The denial was made as advised by the board's chief instructor over school affairs.
The principal, who is no longer at the school, also prevented the memos, which depicted in detail how the student was bullied, from being submitted during evidence preservation procedures initiated by the Kobe District Court at the request of the family.
The board's school affairs official is believed to have thought that if the memos came to light at the court, the family would have again demanded the disclosure of information again, and the related paperwork would have been burdensome, the lawyers report pointed out.
Additionally, the report said the principal hoped to avoid a backlash from the family that was expected to follow the memos' revelation. The lawyers group stressing that the acts of the principal and the board official should be condemned.
「事務処理が面倒」だったためだということだ。いじめについて聞き取ったメモを隠蔽(いんぺい)するよう教育委員会が指示していた。 おととし10月、神戸市で当時、中学3年の女子生徒が自殺。その5日後、教員らが6人の生徒と面談し、メモが作成されていた。
May 25
A male Canadian national employed at a day care facility in Kitakyushu City who was caught abusing a child on video has had his contract canceled by the facility, reports Fuji News Network (May 21).
(tokyoreporter.com)
May 23
Sony Corp. will tackle game addiction, its chief executive said Wednesday as the World Health Organization prepares to formally recognize it as a disorder.
(Japan Times)
May 22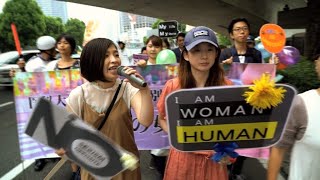 This year's pass ratio of female applicants for admission to the scandal-tainted Tokyo Medical University, which had discriminated against women for more than a decade, was slightly higher than that of male applicants, figures released by the university have shown.
(Japan Times)
May 20
In recent years, we've heard a number of disturbing accounts involving teachers hitting students at Japanese schools, and this week, another disturbing case came to light, when a foreign English-language instructor was seen slapping a two-year-old child during a class at a child daycare facility.
(Japan Today)
May 18
The Japanese school year starts in April, and one high school in Tochigi Prefecture wasted no time in scheduling a two-night class trip for its new crop of first-year students.
(soranews24.com)
May 17
The government said Thursday it plans to reduce the number of dementia patients in their 70s by 10 percent over the next decade, setting the first such numerical goal to curb growing welfare spending at a time when the Japanese population is rapidly aging.
(Japan Today)
May 11
Japan enacted legislation Friday making preschool education free as part of Prime Minister Shinzo Abe's drive to expand child care support and stem the country's falling birthrate.
(Japan Today)
May 08
A 15-year-old junior high school girl killed herself last week after leaving a note accusing a male coach at her table tennis club of verbal abuse, a local education board said Monday.
(Japan Times)
May 05
May 5 is Children's Day in Japan. But the number of children in the country has declined for 38 straight years since 1982, and is now at an all-time-low.
(NHK)
May 01
A 56-year-old man has admitted to leaving knives on the desk of Prince Hisahito at a junior high school in Tokyo, investigative sources said Tuesday.
(Japan Today)
---