Delegates from Japan, South Korea, and Taiwan have agreed to set up a conference that would look into tighter restrictions on eel catches.
They wrapped up a 2-day meeting on eel resources management in Tokyo on Friday.
Japan's Fisheries Agency has reported that the total amount of baby eels or glass eels delivered to fish farms for cultivation in Japan in the 6 months to April was the 2nd lowest for that time of the year. It added the trading price of the fish has also soared.
Some officials at the meeting called for tighter regulations.
But the delegates ultimately decided to hold off until they have a clearer idea of the extent of the depletion in stocks.
They agreed to follow up with a meeting of researchers around September.
China, which is believed to be the biggest harvester of baby eels, was absent from the meeting for the 2nd straight year.
Japan and other countries plan to ask China to take part in the research conference.
絶滅が危惧されているニホンウナギの資源保護を巡る国際会議が都内で開かれ、今後、科学的な根拠に基づいて資源管理を議論していくことで一致しました。 会議には日本、韓国、台湾が参加し、規制強化を嫌う中国は4年連続で欠席しました。
Jun 21
Police have arrested a teen suspected of involvement in a knife attack Tuesday on a 9-year-old boy -- causing serious head trauma -- who was returning home from school in Shizuoka Prefecture, local authorities said Wednesday.
(Japan Times)
Jun 20
Yuya Osako exacted sweet revenge for Japan on Tuesday as the Blue Samurai beat Colombia 2-1, becoming the first Asian side ever to beat a South American team at the World Cup.
(jacarandafm.com)
Jun 20
Japanese soccer fans have been celebrating their national squad's 2-1 win over Colombia in its first group match in the World Cup finals.
(NHK)
Jun 20
The head of a veterinary school operator at the center of a political scandal in Japan denies he ever had a meeting with Prime Minister Shinzo Abe to discuss a school project.
(NHK)
Jun 20
The House of Representatives passed a bill to introduce up to three casino-featuring integrated resorts in Japan at a plenary meeting Tuesday.
(Jiji)
Jun 20
The Japanese operator of a popular app that matches buyers and sellers of used goods has gone public.
(NHK)
Jun 19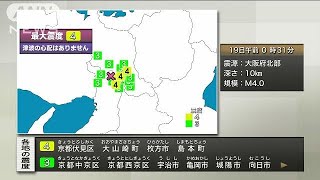 More than 20 tremors believed to be aftershocks of Monday's major earthquake have rattled the western Japanese prefecture of Osaka.
(NHK)
Jun 19
Police in Kitakyushu said Monday they have arrested a 27-year-old man on suspicion of fatally abusing his 4-year-son after he locked the boy inside a storage cabinet beneath a TV stand at their house.
(Japan Today)
Jun 19
The earthquake that struck western Japan on Monday morning battered the region's infrastructure, revealing the fragility of utility lifelines and transportation networks in one of the country's most densely populated areas.
(Nikkei)
Jun 18
A basketball referee was punched in the face by a high school player during a game in the western Japanese prefecture of Nagasaki on Sunday.
(NHK)
---