A Japanese high court has decided not to grant a retrial to an 82-year-old former professional boxer in a 1966 murder case.
In 1980, the Supreme Court finalized a death sentence for Iwao Hakamada for killing 4 members of a family in Shizuoka City. He pleaded innocent and filed for a retrial.
In 2014, the Shizuoka District Court granted a retrial and released him after 48 years in detention. The district court accepted DNA findings submitted by Hakamada's defense counsel that undermined the prosecutors' claim that his blood was found on items of clothing that purportedly belonged to him.
Prosecutors appealed the ruling.
On Monday, presiding judge Takaaki Oshima of the Tokyo High Court said deep doubt remains over the method and utility of the DNA tests that were accepted by the lower court. He also said the findings that the DNA type did not match the defendant's could not be trusted.
The judge also questioned the lower court's finding that the clothing items had highly likely been fabricated by the police. He said there is nothing illogical in thinking that the clothes belonged to Hakamada. He concluded that no reasonable doubt has arisen for the guilty conviction.
But the judge did not cancel the lower court's decision to release the man, citing his age and health condition.
Hakamada's defense counsel says it will appeal to the Supreme Court.
1966年に静岡県で一家4人が殺害された強盗殺人事件で死刑が確定した元プロボクサー袴田巌さん(82)の第2次再審請求で、東京高裁(大島隆明裁判長)は11日、2014年の静岡地裁の決定を取り消し、再審開始を認めない決定をした。地裁は認め袴田さんは釈放されたが、検察側が即時抗告していた。
Feb 15
Tokyo Metropolitan Police have apprehended a man who is suspected of slashing another man and a woman at a railway station in Bunkyo ward on Thursday, reports NHK (Feb. 14).
(tokyoreporter.com)
Feb 09
The government confirmed Friday that it will follow the procedures taken to pick the current era name of Heisei in choosing a name for the new era.
(Japan Times)
Feb 09
A developmental carriage from the next-generation bullet train has been shown to the media in western Japan.
(NHK)
Feb 09
A 20-year-old former policeman was sentenced Friday to 22 years in prison for shooting his boss to death at a police box in Hikone, Shiga Prefecture, last April.
(Japan Times)
Feb 08
A 16-year-old female high student has been arrested for extorting a man she met while engaging in papakatsu — the practice of a sugar daddy paying young girls in exchange for having dinner and dates.
(Japan Today)
Feb 08
Rental unit provider Leopalace21 said Thursday that possible construction code violations were found in an additional 1,324 of its apartment buildings, a discovery that will require the relocation of roughly 14,000 tenants.
(Nikkei)
Feb 07
The operator of one of Japan's largest sushi restaurant chains said Wednesday that video footage recently uploaded to the internet showed one of its part-time kitchen workers throwing sliced fish into a trash can and returning it to a cutting board at an outlet in Osaka Prefecture.
(Kyodo)
Feb 06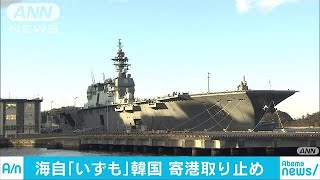 Japan's Defense Ministry has canceled a port call of a Self-Defense Forces vessel in Busan, South Korea, amid soured relations.
(NHK)
Feb 06
The mother of a 10-year-old girl who died last month at their home in Chiba Prefecture has told police that she sometimes gave the girl no food, at her husband's insistence, in the days before her daughter's death, investigative sources said Tuesday.
(Japan Times)
Feb 06
Japan's Foreign Ministry has ordered freelance journalist Kosuke Tsuneoka to hand over his passport as he attempted to travel to Yemen.
(NHK)
---