Japanese Prime Minister Shinzo Abe on Tuesday pledged zero tolerance on sexual harassment, ordering senior officials to undergo training to prevent abuse after a scandal involving a top government bureaucrat.
"Sexual harassment is a clear violation of human rights. It must never be tolerated," Shinzo Abe told a panel of ministers.
"We ask each one of the ministers to implement this emergency measure in a swift manner," he said, referring to a new policy that will require senior bureaucrats to undergo anti-sexual harassment training.
The training will be tied to promotion for bureaucrats in a bid to ensure the success of the effort.
The initiative comes after a senior finance ministry official was forced to resign following allegations he sexually harassed female reporters.
He denied the allegations, but a ministry probe found them credible and docked his retirement pay.
The finance ministry came under fire for its handling of the allegations, with Finance Minister Taro Aso initially appearing to dismiss them, and the ministry then asking women to come forward publicly with details of their experiences.
テレビ朝日の女性記者に対する財務省の福田前次官のセクハラ問題などを受けて、政府はセクハラ防止の緊急対策を決定しました。 安倍総理大臣:「誠に遺憾ながら、先般のセクハラ事案の発生を受け、野田大臣に緊急対策の取りまとめを指示したものであります。
Feb 15
Tokyo Metropolitan Police have apprehended a man who is suspected of slashing another man and a woman at a railway station in Bunkyo ward on Thursday, reports NHK (Feb. 14).
(tokyoreporter.com)
Feb 09
The government confirmed Friday that it will follow the procedures taken to pick the current era name of Heisei in choosing a name for the new era.
(Japan Times)
Feb 09
A developmental carriage from the next-generation bullet train has been shown to the media in western Japan.
(NHK)
Feb 09
A 20-year-old former policeman was sentenced Friday to 22 years in prison for shooting his boss to death at a police box in Hikone, Shiga Prefecture, last April.
(Japan Times)
Feb 08
A 16-year-old female high student has been arrested for extorting a man she met while engaging in papakatsu — the practice of a sugar daddy paying young girls in exchange for having dinner and dates.
(Japan Today)
Feb 08
Rental unit provider Leopalace21 said Thursday that possible construction code violations were found in an additional 1,324 of its apartment buildings, a discovery that will require the relocation of roughly 14,000 tenants.
(Nikkei)
Feb 07
The operator of one of Japan's largest sushi restaurant chains said Wednesday that video footage recently uploaded to the internet showed one of its part-time kitchen workers throwing sliced fish into a trash can and returning it to a cutting board at an outlet in Osaka Prefecture.
(Kyodo)
Feb 06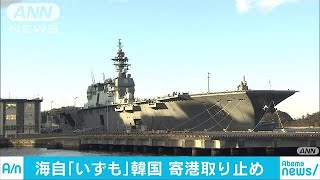 Japan's Defense Ministry has canceled a port call of a Self-Defense Forces vessel in Busan, South Korea, amid soured relations.
(NHK)
Feb 06
The mother of a 10-year-old girl who died last month at their home in Chiba Prefecture has told police that she sometimes gave the girl no food, at her husband's insistence, in the days before her daughter's death, investigative sources said Tuesday.
(Japan Times)
Feb 06
Japan's Foreign Ministry has ordered freelance journalist Kosuke Tsuneoka to hand over his passport as he attempted to travel to Yemen.
(NHK)
---