Princess Kako, granddaughter of Emperor Akihito and Empress Michiko, has completed a study program at the University of Leeds in England.
The second daughter of Prince Akishino and Princess Kiko left Japan in September last year to study at the Faculty of Arts, Humanities and Cultures at the university in West Yorkshire, England, as an exchange student from the International Christian University in Tokyo.
The princess will return to Japan on Friday.
She completed all curriculum requirements, including exams, in early June, according to the Imperial Household Agency. On holidays, she traveled to Spain and Portugal with her friends.
イギリス留学を終えた佳子さまが今週、帰国されます。 秋篠宮ご夫妻の次女・佳子さまは、去年9月からイギリスのリーズ大学で舞台芸術や心理学などを学んでいましたが、カリキュラムを終えて15日に帰国されます。
Sep 18
Overseas hackers are thought to have made off with information on Japan's maritime strategy in a March attack on specific people at national universities, which a Nikkei survey has found to be growing targets for their relatively lax security and sensitive knowledge.
(Nikkei)
Sep 15
The Japanese government set on Friday the new goal of cutting to zero the number of elementary school children waiting for receiving after-school care services by the end of fiscal 2021.
(Jiji)
Sep 12
Elderly men who go out less than once a week are more likely to suffer poor nutrition than those who leave their house more often, a health ministry survey for 2017 showed Tuesday.
(Jiji)
Sep 12
A survey by Japan's health ministry has found that the percent of people in the country who smoke has fallen to new lows.
(NHK)
Sep 11
For some time now, schools in Japan have been feeling the crunch of their aging society, and the plummeting number of potential students that come with it.
(Japan Today)
Sep 08
An explosion occurred at Kyushu University in the city of Fukuoka Friday morning and an unidentified human body was found in the debris, local police said.
(Japan Times)
Sep 08
The number of children on nursery waiting lists in Japan as of April 1 fell 6,186 from a year before to 19,895, the first drop in four years, the government said Friday.
(Jiji)
Sep 01
The life and times of Japan's first golfer: AMSTERDAM, 1606
(thesamuraigolfer.com)
Sep 01
More teenagers are becoming addicted to the internet with an estimated 930,000 junior high and high school students nationwide overusing online services, a health ministry team said Friday.
(Japan Times)
Aug 31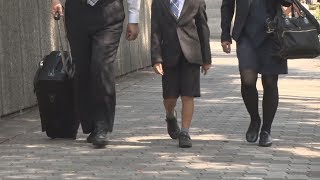 A high court upheld Thursday a lower court ruling that found constitutional a legal provision that allows only men to file lawsuits denying legal fatherhood, dismissing a damages suit filed by a family against the state.
(Japan Today)
---