Demand for new offices pulled up land values in Japan's largest cities, but the country is witnessing polarizing demand as rural areas that lack tourist attractions are left behind.
Japan's average land prices rose for the third straight year, up 0.7% in the year ended December, the National Tax Agency said on Monday, with 18 of the country's 47 prefectures seeing growth, compared with just 13 last year. The most expensive sites increased in 33 prefectural capitals, while 13 remained flat.
Strong earnings and work-style reforms have driven demand for more pleasant offices, especially in the Tokyo area -- a trend that encouraged Japanese and foreign investors alike to invest.
Asking rents for offices in the Tokyo wards of Chiyoda, Chuo, Minato, Shinjuku and Shibuya in May averaged 20,019 yen ($180) per 3.3 sq. meters, said real estate brokerage Miki Shoji, reaching 20,000 yen for the first time since July 2009 after climbing for 53 straight months.
The vacancy rate was 2.68%, far below the equilibrium rate of 5%. Existing tenants are expanding within their buildings when other companies move, allowing landlords to quickly fill vacancies.
Redeveloped offices are also filling up fast. The 31-story msb Tamachi Station Tower S developed by Mitsui Fudosan and Mitsubishi Estate opened in May and is already fully occupied, with companies like Mitsubishi Motors and FamilyMart UNY Holdings moving their headquarters to the building.
Land prices as of Jan. 1 surged in major cities like Kobe, whose Sannomiya Center Gai shopping street soared 22.5%. Property along Kyoto's bustling Shijo-dori jumped 21.2%, while real estate on Nagoya's Meieki-dori retail strip climbed 13.6%.
Sep 21
The Bank of Japan has for years bought Japanese stocks as part of its huge massive monetary easing program to lift the country out of deflation and hit a 2 percent price-stability target.
(Nikkei)
Sep 21
A new report shows that people in Japan are sitting on a record pile of financial assets. It credits a surge in stock prices as the main factor.
(NHK)
Sep 20
Bank of Japan Governor Haruhiko Kuroda said Wednesday that no change has been made to the central bank's resolve to attain its 2 pct inflation target at an early date.
(Jiji)
Sep 19
The average land price in Japan as of July 1 increased 0.1 pct from a year before, the first rise since 1991, when the country's asset bubble era was ending, the land ministry said Tuesday.
(Jiji)
Sep 17
The number of one-yen coins in circulation has fallen sharply in Japan, as consumers increasingly choose cashless payments with electronic money or credit cards.
(Jiji)
Sep 17
Despite a much-heralded debut 18 years ago, 2,000-yen bills failed to find wide appeal, leaving them seldom sighted recently.
(Jiji)
Sep 15
Some 60 pct of Japanese people are positive about a government plan to expand the intake of foreign workers by introducing new five-year resident status for them next April, the results of a recent Jiji Press survey suggested.
(Jiji)
Sep 11
Japanese Prime Minister Shinzo Abe and Russian President Vladimir Putin have concluded their meeting in Russia's Far East. They agreed to draw up a schedule of joint economic projects on the islands known as the Northern Territories.
(NHK)
Sep 08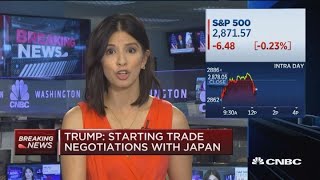 US President Donald Trump has pressured Japan to reduce its trade deficit with the US.
(NHK)
Sep 08
Japan's price-adjusted real wage index in July rose 0.4 pct from a year before, up for the third consecutive month, the labor ministry said in a preliminary report Friday.
(Jiji)
---