Japan on Tuesday approved an energy plan that sets ambitious targets for nuclear energy use and sustains a struggling program for spent-fuel recycling despite setbacks after the 2011 Fukushima disaster.
The plan approved Tuesday by the cabinet noted for the first time the need to reduce the plutonium stockpile, given international security concerns. The stockpile results from technical challenges in achieving fuel recycling and from slow restarts of reactors to burn it amid widespread anti-nuclear sentiment.
Japan repeatedly has stated its commitment to transparency and appropriate handling of the plutonium, but the U.S. in particular has raised concerns in recent years. It has urged Japan to suspend the planned launch of its key reprocessing plant in Rokkasho, northern Japan.
"The energy plan makes clearer our commitment to reducing the amount" of plutonium, Economy, Trade and Industry Minister Hiroshige Seko told reporters. "The government will actively work to appropriately manage, use and reduce the plutonium."
The plan, however, did not give a timeline or other details for shrinking the stockpile.
Japan has nearly 47 tons of plutonium, more than three-quarters of which is kept in France and Britain where Japanese spent fuel has been reprocessed since Japan is not able to reprocess it into plutonium-based MOX fuel pellets at home. The total is enough to make 6,000 atomic bombs, though the Rokkasho plant operator has insisted there is no risk of proliferation, saying all plutonium is stored safely and closely monitored by the International Atomic Energy Agency.
The energy plan calls for further development of renewable energy but still stipulates that nuclear energy should account for 20 to 22 percent of Japan's power generation by fiscal 2030. It sets a 22 to 24 percent target for renewable energy, with the remainder coming from fossil fuels in line with goals set in 2015. The plan urges further progress in meeting pledges to reduce carbon emissions by 80 percent from 2013 levels by fiscal 2050.
政府は、新たなエネルギー基本計画で原発の使用済み核燃料を再処理して出るプルトニウムについて「保有量の削減に取り組む」と初めて明記しました。
Feb 16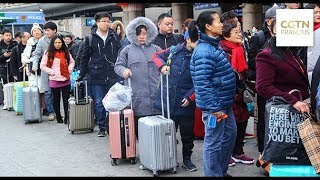 Reservations for travel overseas are surging for this year's 10-day Golden Week period, during which the Imperial succession is set to take place, according to a JTB Corp. official.
(Japan Times)
Feb 15
The Japanese government has mapped out a bill to officially recognize the Ainu ethnic minority as an indigenous people of Japan.
(NHK)
Feb 15
Bullet train ticket machines have stopped working in many parts of Japan.
(NHK)
Feb 13
Around the world, people use chocolate treats to express sweet nothings on Valentine's Day.
(BBC)
Feb 13
As spring approaches in Japan, the country's weather forecasters face one of their biggest missions of the year: predicting exactly when the famed cherry blossoms will bloom.
(straitstimes.com)
Feb 13
A new outbreak of swine fever has been confirmed on a pig farm in Aichi Prefecture, central Japan. It is the third farm in the prefecture to be hit by the highly contagious disease.
(NHK)
Feb 12
Convenience store operator Family Mart Co. on Monday announced the dismissal of a male employee after the emergence of a video showing him licking items, the latest of several similar incidents involving a food-related company in the last week, reports TV Asahi (Feb. 12).
(tokyoreporter.com)
Feb 12
A man in custody in connection with the death of a female university student whose body was found buried in a field in Kamisu City last month has also been accused in her murder, police said over the weekend, reports the Asahi Shimbun
(tokyoreporter.com)
Feb 10
The number of influenza patients per medical institution in Japan in the week through Feb. 3 dropped from the previous week in all of the nation's 47 prefectures, the health ministry announced.
(Japan Times)
Feb 09
People in Sapporo shivered through frigid conditions on Friday as the city recorded a daytime high of minus 10.1 degrees Celsius, making it the first time in 40 years that the mercury has failed to reach minus 10.
(NHK)
---