The latest forecast from Japan's government sees GDP growing by about 1.5 percent in fiscal 2019. Officials expect the current recovery to continue even after the planned consumption tax hike to 10 percent in October 2019.
Officials expect personal spending to increase, and predict that investment in plant and equipment will also grow solidly. They are expecting about 1.5 percent growth in real terms, excluding price fluctuations, and nominal growth of about 2.8 percent.
Looking to the current fiscal year, officials plan to lower the real growth estimate to about 1.5 percent, down 0.3 points from the January forecast. That's partly due to housing investment being weaker than anticipated.
Sep 21
The Bank of Japan has for years bought Japanese stocks as part of its huge massive monetary easing program to lift the country out of deflation and hit a 2 percent price-stability target.
(Nikkei)
Sep 21
A new report shows that people in Japan are sitting on a record pile of financial assets. It credits a surge in stock prices as the main factor.
(NHK)
Sep 20
Bank of Japan Governor Haruhiko Kuroda said Wednesday that no change has been made to the central bank's resolve to attain its 2 pct inflation target at an early date.
(Jiji)
Sep 19
The average land price in Japan as of July 1 increased 0.1 pct from a year before, the first rise since 1991, when the country's asset bubble era was ending, the land ministry said Tuesday.
(Jiji)
Sep 17
The number of one-yen coins in circulation has fallen sharply in Japan, as consumers increasingly choose cashless payments with electronic money or credit cards.
(Jiji)
Sep 17
Despite a much-heralded debut 18 years ago, 2,000-yen bills failed to find wide appeal, leaving them seldom sighted recently.
(Jiji)
Sep 15
Some 60 pct of Japanese people are positive about a government plan to expand the intake of foreign workers by introducing new five-year resident status for them next April, the results of a recent Jiji Press survey suggested.
(Jiji)
Sep 11
Japanese Prime Minister Shinzo Abe and Russian President Vladimir Putin have concluded their meeting in Russia's Far East. They agreed to draw up a schedule of joint economic projects on the islands known as the Northern Territories.
(NHK)
Sep 08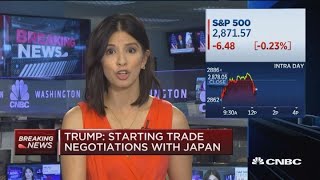 US President Donald Trump has pressured Japan to reduce its trade deficit with the US.
(NHK)
Sep 08
Japan's price-adjusted real wage index in July rose 0.4 pct from a year before, up for the third consecutive month, the labor ministry said in a preliminary report Friday.
(Jiji)
---