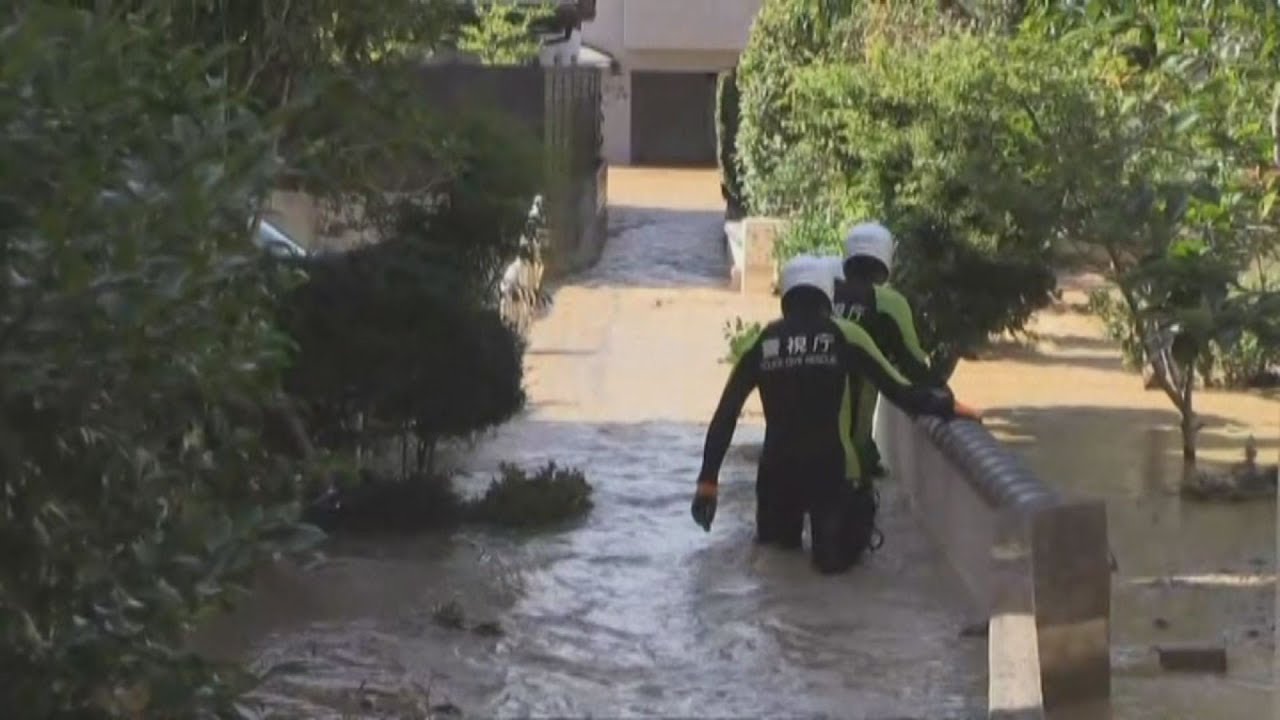 The death toll from torrential rain that hit mainly western Japan through the weekend reached 157 in 12 prefectures on Tuesday, with 55 remaining missing in six prefectures, authorities said.
Amid temperatures topping 30 degrees Celsius in many afflicted areas, police, firefighters and Self-Defense Forces personnel continued their search and rescue operations.
In Hiroshima Prefecture, the town of Fuchu issued an evacuation order to about 10,000 households with some 25,000 residents after the Enoki River flooded due to sediment and driftwood piling up at a bridge.
In Okayama Prefecture, 18 were newly confirmed dead in the Mabi district of Kurashiki, where a wide area was submerged in water. The death toll in the district came to 46. Most of the victims were older people, but a five-year-old girl was also killed in the disaster.
About 1,100 SDF members and firefighters checked each house whether there was someone there.
西日本を襲った記録的な豪雨で、これまでに158人が死亡し、今も50人以上の安否が分かっていません。被災地では11日も厳しい暑さが予想され、捜索活動にも影響を及ぼしそうです。 10日、多くの犠牲者が確認された岡山県倉敷市真備町では、この夏、最も高い32.8度を観測しました。
Sep 24
A Japanese cargo spacecraft, the Kounotori 7, is on its way to deliver supplies to the International Space Station.
(NHK)
Sep 24
Japan's space agency JAXA says 2 rovers released from its Hayabusa2 probe have landed on the asteroid Ryugu.
(NHK)
Sep 24
The organizer of the Tokyo Marathon is considering raising the fees paid by participants by 50 pct, from 10,000 yen to 15,000 yen, starting with the race in March 2020, it was learned Saturday.
(Jiji)
Sep 23
A day after securing his record-extending 41st championship, Mongolian yokozuna Hakuho closed the Autumn Grand Sumo Tournament with a perfect 15-0 record on Sunday.
(Japan Times)
Sep 22
A Japanese space probe Friday released a pair of exploring rovers towards an egg-shaped asteroid to collect mineral samples that may shed light on the origin of the solar system.
(Japan Today)
Sep 22
In just one year, some of the toughest athletes are set to hit the pitch in Japan for the Rugby World Cup. As the players gear up to play, they're getting some advice about adhering to local customs, including covering up their tattoos.
(NHK)
Sep 22
Police in Tsukuba, Ibaraki Prefecture, have arrested three men on suspicion of trying to rob a vacant house where an elderly couple were murdered.
(Japan Today)
Sep 22
Japan's major mobile phone carrier SoftBank says more than 10 million e-mails have been lost due to a faulty mail system.
(NHK)
Sep 22
Japan's Emperor Akihito and Empress Michiko have visited 2 prefectures in western Japan that were hit hard by record rainfall in July.
(NHK)
Sep 22
Japan's government has approved an application for a clinical test of treatment for an intractable blood disease using iPS cells, which can grow into any type of body tissue.
(NHK)
---