Nissan Motor is facing its second inspection scandal since the fall after it said Monday that emissions data had been tampered with for several years, delivering another blow to the automaker's brand even as it tries to shake off the first.
Across five Japanese plants, the company rigged fuel economy data for 913 cars and validated final inspections for 690 vehicles that did not conform to the prescribed testing environment. A total of 1,171 cars, the majority of which are sold domestically, were improperly tested.
Nissan, however, says there is no need for a recall since the cars meet government emissions and safety standards. The automaker also claims that catalog specifications for fuel economy are correct. Falsified data was removed and all data reverified, according to the company.
The concern, however, is that the misconduct continued until June despite increased scrutiny from another inspection scandal last September. Though CEO Hiroto Saikawa said at a press conference in October that the automaker would work to reform employees' approach and put preventative measures in place, the improprieties continued.
"We had focused our improvement efforts on the issue of unqualified workers making inspections," Yasuhiro Yamauchi, chief competitive officer, told a news briefing Monday. "We identified the problem because of similar incidents at another company," he said, explaining that a similar issue at fellow Japanese carmaker Subaru led to the discovery.
Although Nissan said it was not attempting to hide anything, it was revealed during last year's scandal that the improper inspections continued at another factory even after Saikawa's October press conference. Corporate leaders and plant supervisors have been denounced for their ignorance of these issues.
The automaker will also be unable to escape criticism that the problems are widespread within the company, given that the cheating occurred at all but one of its six domestic assembly plants. Japan's transport ministry ordered Nissan to open a new investigation and submit a report in a month. It also asked other automakers to check for similar misconduct.
ほとんどの工場でデータの改ざんが行われていました。 日産自動車・山内康裕CCO:「深くおわびを申し上げます。申し訳ございませんでした」 日産は国内の5つの工場で排出ガスや燃費の測定試験を行った際、データ書き換えなどの不正行為があったと発表しました。
Feb 16
Soft drink companies in Japan have put aside their long-held fear of losing market shares, moving to raise prices amid soaring expenses for labor and materials.
(Nikkei)
Feb 12
Convenience store operator Family Mart Co. on Monday announced the dismissal of a male employee after the emergence of a video showing him licking items, the latest of several similar incidents involving a food-related company in the last week, reports TV Asahi (Feb. 12).
(tokyoreporter.com)
Feb 09
The parent company of All Nippon Airways will invest in the operator of Philippine Airlines to take advantage of growing demand for travel in Asia.
(NHK)
Feb 08
Rental unit provider Leopalace21 said Thursday that possible construction code violations were found in an additional 1,324 of its apartment buildings, a discovery that will require the relocation of roughly 14,000 tenants.
(Nikkei)
Feb 07
Lawson Inc. said Wednesday it closed two of its franchise convenience stores after discovering they had systematically falsified expiration times on some food items prepared in the stores over a period of several years.
(Japan Times)
Feb 06
Nissan Motor decided Tuesday to hold an extraordinary shareholders meeting on April 8, where the Japanese automaker is expected to dismiss former Chairman Carlos Ghosn and his onetime deputy Greg Kelly from the board of directors.
(Nikkei)
Feb 03
The government has announced standards it hopes to set for casino resorts — to be built by the mid-2020s — requiring them to have hotels and conference rooms that would be among the biggest in the country.
(Japan Times)
Feb 02
Major hamburger chain operator Mos Food Services Inc. has said it will switch from plastic to paper cutlery for takeout food at its corporate-owned outlets as it joins growing efforts to tackle the issue of plastic waste littering the oceans.
(Japan Times)
Feb 02
In light of an increasing number of foreign customers, supermarket giant Aeon Co. on Friday launched a real-time video interpreting service.
(Japan Times)
Jan 31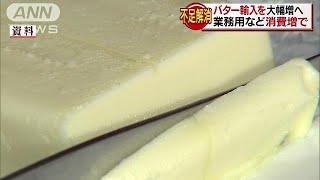 Japan's agriculture ministry has decided to hike imports of butter. The aim is to prevent a shortage in the face of dwindling production of raw milk.
(NHK)
---