NHK has learned that scientists now believe the asteroid Ryugu was likely formed from a collection of asteroid fragments.
Japan's Hayabusa2 spacecraft began observing Ryugu after it reached 20 kilometers from the asteroid on June 27th.
Ryugu is located about 300 million kilometers from Earth and is around 900 meters in diameter. Scientists hope that water and organic materials are present in the asteroid. But how it came into being was not known.
A team of researchers at the Japan Aerospace Exploration Agency is examining images beamed back from the probe.
The group says Ryugu has small and large rocks on its surface, with some estimated to be 100 to 200 meters long.
The team says the terrain is similar to that of the asteroid Itokawa, where the probe's predecessor landed in 2005.
University of Tokyo Professor Seiji Sugita is part of the team. He says one major theory is that Ryugu was formed by gravity drawing together fragments that split off in a collision between a relatively big asteroid and another body.
Sugita says understanding how Ryugu formed will help scientists predict its interior structure. He adds it will also help them decide on which part of the asteroid they should land the probe in a mission to collect rock samples.
Feb 16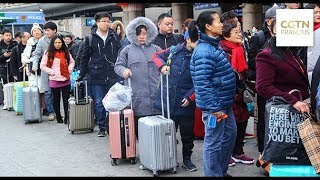 Reservations for travel overseas are surging for this year's 10-day Golden Week period, during which the Imperial succession is set to take place, according to a JTB Corp. official.
(Japan Times)
Feb 15
The Japanese government has mapped out a bill to officially recognize the Ainu ethnic minority as an indigenous people of Japan.
(NHK)
Feb 15
Bullet train ticket machines have stopped working in many parts of Japan.
(NHK)
Feb 13
Around the world, people use chocolate treats to express sweet nothings on Valentine's Day.
(BBC)
Feb 13
As spring approaches in Japan, the country's weather forecasters face one of their biggest missions of the year: predicting exactly when the famed cherry blossoms will bloom.
(straitstimes.com)
Feb 13
A new outbreak of swine fever has been confirmed on a pig farm in Aichi Prefecture, central Japan. It is the third farm in the prefecture to be hit by the highly contagious disease.
(NHK)
Feb 12
Convenience store operator Family Mart Co. on Monday announced the dismissal of a male employee after the emergence of a video showing him licking items, the latest of several similar incidents involving a food-related company in the last week, reports TV Asahi (Feb. 12).
(tokyoreporter.com)
Feb 12
A man in custody in connection with the death of a female university student whose body was found buried in a field in Kamisu City last month has also been accused in her murder, police said over the weekend, reports the Asahi Shimbun
(tokyoreporter.com)
Feb 10
The number of influenza patients per medical institution in Japan in the week through Feb. 3 dropped from the previous week in all of the nation's 47 prefectures, the health ministry announced.
(Japan Times)
Feb 09
People in Sapporo shivered through frigid conditions on Friday as the city recorded a daytime high of minus 10.1 degrees Celsius, making it the first time in 40 years that the mercury has failed to reach minus 10.
(NHK)
---