A government panel gave the green light Friday for public broadcaster NHK to start simultaneous online streaming of its television programs amid surging popularity of streaming video services.
The Internal Affairs and Communications Ministry's panel said in a draft report that the plan for simulcasting service is "appropriate," with NHK aiming to start it in fiscal 2019.
The ministry plans to submit a bill covering the necessary revision to the broadcast law, which prohibits simultaneous streaming on grounds of potential negative influence on the business of private TV networks. Disaster reports and live sports coverage are considered among the few exceptions for simultaneous streaming under the current law.
The report also stipulates that management reforms of NHK to improve compliance as well as a review of the current system for collecting subscription fees are mandatory for the start of simulcasting service.
With more people watching TV programs on their cell phones or the internet these days, there is an ongoing debate whether these people should pay the subscription fee to NHK or not, in some cases bringing it to court.
Under the Japanese law, people who install a TV receiver are obliged to sign a subscription contract with NHK.
Feb 16
Soft drink companies in Japan have put aside their long-held fear of losing market shares, moving to raise prices amid soaring expenses for labor and materials.
(Nikkei)
Feb 12
Convenience store operator Family Mart Co. on Monday announced the dismissal of a male employee after the emergence of a video showing him licking items, the latest of several similar incidents involving a food-related company in the last week, reports TV Asahi (Feb. 12).
(tokyoreporter.com)
Feb 09
The parent company of All Nippon Airways will invest in the operator of Philippine Airlines to take advantage of growing demand for travel in Asia.
(NHK)
Feb 08
Rental unit provider Leopalace21 said Thursday that possible construction code violations were found in an additional 1,324 of its apartment buildings, a discovery that will require the relocation of roughly 14,000 tenants.
(Nikkei)
Feb 07
Lawson Inc. said Wednesday it closed two of its franchise convenience stores after discovering they had systematically falsified expiration times on some food items prepared in the stores over a period of several years.
(Japan Times)
Feb 06
Nissan Motor decided Tuesday to hold an extraordinary shareholders meeting on April 8, where the Japanese automaker is expected to dismiss former Chairman Carlos Ghosn and his onetime deputy Greg Kelly from the board of directors.
(Nikkei)
Feb 03
The government has announced standards it hopes to set for casino resorts — to be built by the mid-2020s — requiring them to have hotels and conference rooms that would be among the biggest in the country.
(Japan Times)
Feb 02
Major hamburger chain operator Mos Food Services Inc. has said it will switch from plastic to paper cutlery for takeout food at its corporate-owned outlets as it joins growing efforts to tackle the issue of plastic waste littering the oceans.
(Japan Times)
Feb 02
In light of an increasing number of foreign customers, supermarket giant Aeon Co. on Friday launched a real-time video interpreting service.
(Japan Times)
Jan 31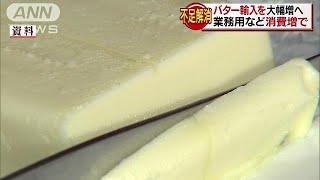 Japan's agriculture ministry has decided to hike imports of butter. The aim is to prevent a shortage in the face of dwindling production of raw milk.
(NHK)
---