The Bank of Japan last week decided to allow the yield on the 10-year government bond to move in a wider range.
The yield had already been inching upward. Now, banks and other lenders are responding with rate hikes of their own. That means higher costs for borrowers, including people with mortgages.
Resona Bank has raised its prime interest rate on 10 year fixed-rate housing loans by 0.05 percentage point. It's been 0.75 percent since Wednesday.
Mizuho Bank and Sumitomo Mitsui Trust Bank hiked the interest rates on their 15-year and 20-year fixed-rate loans by 0.05 percentage point.
Analysts expect mortgage costs to continue rising as long as that government-bond yield continues creeping up.
Oct 19
Investors who collectively placed approximately 100,000 failed share trades may seek compensation after a systems glitch at the Tokyo Stock Exchange last week left some 40 brokerages temporarily unable to place orders, sources said Thursday.
(Japan Times)
Oct 16
The Japanese government is looking at how to minimize the impact of the tax hike.
(NHK)
Oct 10
The operator of the Tokyo Stock Exchange says trading was partially disrupted due to system trouble on Tuesday but was expected to return to normal on Wednesday.
(NHK)
Sep 29
The percentage of working-age women with jobs in Japan reached a record-high 70.0 percent in August, government data showed Friday, underscoring an increase in female workers amid changing attitudes and a deepening labor shortage.
(Japan Today)
Sep 26
The world's third-largest economy has suffered from a caricature. Yes, Japan fell from its pinnacle in the 1990s because of a property crash, enfeebled banks and a dwindling population. But that was then. It's not falling anymore.
(Japan Times)
Sep 21
The Bank of Japan has for years bought Japanese stocks as part of its huge massive monetary easing program to lift the country out of deflation and hit a 2 percent price-stability target.
(Nikkei)
Sep 21
A new report shows that people in Japan are sitting on a record pile of financial assets. It credits a surge in stock prices as the main factor.
(NHK)
Sep 11
Japanese Prime Minister Shinzo Abe and Russian President Vladimir Putin have concluded their meeting in Russia's Far East. They agreed to draw up a schedule of joint economic projects on the islands known as the Northern Territories.
(NHK)
Sep 08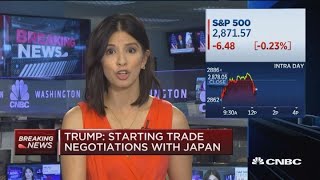 US President Donald Trump has pressured Japan to reduce its trade deficit with the US.
(NHK)
Sep 06
Japan's main gateway for Asian tourists, Kansai International Airport, has remained shut down in the wake of Typhoon Jebi, threatening to disrupt the growing tourism that has been a key engine of the Osaka-area economy.
(Nikkei)
---