The Bank of Japan last week decided to allow the yield on the 10-year government bond to move in a wider range.
The yield had already been inching upward. Now, banks and other lenders are responding with rate hikes of their own. That means higher costs for borrowers, including people with mortgages.
Resona Bank has raised its prime interest rate on 10 year fixed-rate housing loans by 0.05 percentage point. It's been 0.75 percent since Wednesday.
Mizuho Bank and Sumitomo Mitsui Trust Bank hiked the interest rates on their 15-year and 20-year fixed-rate loans by 0.05 percentage point.
Analysts expect mortgage costs to continue rising as long as that government-bond yield continues creeping up.
Dec 12
As the global shortage of skilled information technology experts hits Japan hard, companies are scrambling to lure and keep top talent with hefty annual pay packages.
(Nikkei)
Dec 11
Winter bonuses at Japanese companies averaged an all-time high of 834,391 yen ($7,400) this year, according to a Nikkei survey released Monday, notching a sixth straight year of growth on strong corporate earnings.
(Nikkei)
Nov 29
Japan's gross domestic product could fall by over 25% in the next 40 years as its population declines, the International Monetary Fund said Wednesday, urging the government to boost productivity through structural reform to mitigate the damage.
(Nikkei)
Nov 23
Japan plans to give a 5 percent reward-point rebate to consumers on some payments made through credit cards and other cashless means as a way of underpinning domestic demand after a planned tax increase next October, government officials said Thursday.
(Japan Today)
Nov 15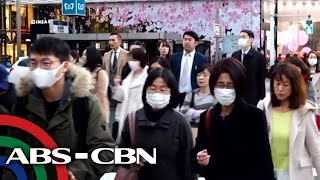 Between 260,000 and 340,000 foreign workers are estimated to flow into Japan in the five years from next April through an envisioned immigration control law revision aimed at dealing with the country's serious labor crunch, government sources said Tuesday.
(Japan Today)
Nov 15
Japan's economy contracted for the first time in 2 quarters. Government officials say a string of natural disasters in the period dented exports and consumer spending.
(NHK)
Nov 14
For the first time in almost three decades the Salt Industry Center of Japan has announced it will raise the price on many of its products by around 15 percent, indicating inflation has finally arrived in at least some industries.
(Japan Times)
Nov 10
On Oct. 15, Prime Minister Shinzo Abe confirmed during an extraordinary Cabinet meeting that the government would raise the consumption tax from 8 to 10 percent next Oct. 1.
(Japan Times)
Nov 05
Japan's government-affiliated financial institution says the 4 major natural disasters that hit the country this year are expected to have a negative impact on the country's economy of more than 10 billion dollars.
(NHK)
Nov 04
Missing: A tiny island off Hokkaido. Or so authorities fear, prompting plans for a survey to determine if the outcrop has been washed away, ever so slightly shrinking the country's territorial waters.
(Japan Times)
---