Controversial Japanese casino tycoon Kazuo Okada has been arrested in Hong Kong over alleged and unspecified "corruption-related" offences, his former company in Tokyo said on Monday.
Universal Entertainment Corp said the Hong Kong Independent Commission Against Corruption (ICAC) had arrested Okada and released him on bail.
Contacted by AFP, the ICAC was not able to confirm the information immediately, citing a policy on not commenting on individual incidents.
"Upon receipt of a corruption complaint and should there be sufficient information to pursue, the ICAC will follow up on it in accordance with the law and established procedures," the organisation said in a statement.
Okada was sacked from running Universal Entertainment in 2017 after the firm accused him of a series of "fraudulent acts ... for his own personal benefit."
According to Forbes, Okada is the 16th richest person in Japan, with a net worth that currently stands at $2.1 billion.
Oct 20
Scandal-hit KYB Corp. on Friday disclosed the names of 70 government and municipal office buildings that used, or are suspected of having used, substandard earthquake shock absorbers in their construction.
(Japan Times)
Oct 18
The landmark Tokyo Skytree tower, facilities for the 2020 Tokyo Olympic and Paralympic Games and more government offices are among the nearly 1,000 buildings using earthquake shock absorbers produced by KYB Corp, which admitted cheating quality inspection data for more than a decade, officials said Wednesday.
(Japan Today)
Oct 17
An unmanned store using artificial intelligence instead of cashiers is set to open on a trial basis at a station in Tokyo.
(NHK)
Oct 13
The head of NHK said Friday the Japanese public broadcaster aims to lower its subscription fees, possibly from fiscal 2019, after a government panel made it a condition for the company to start simultaneous online streaming of its television programs.
(Japan Today)
Oct 12
Major Japanese retailer FamilyMart Uny Holdings Co. said Thursday it will make discount store operator Don Quijote Holdings Co. its affiliate in a deeper capital tie-up amid intensifying competition in the shrinking domestic retail market.
(Kyodo)
Oct 11
Accommodation service provider Airbnb says it will review its contract terms with private lodging operators in Japan.
(NHK)
Oct 11
A study group at the Ministry of Internal Affairs and Communications held its first meeting Wednesday, where it discussed ways to spur industry competition with the aim of lowering mobile phone fees in the nation.
(Japan Times)
Oct 10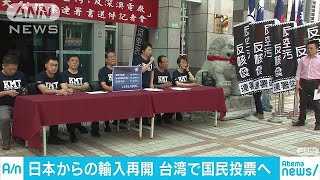 Taiwan will hold a referendum during local elections next month on whether to maintain a ban on food products from five Japanese prefectures imposed in the wake of the 2011 Fukushima nuclear disaster, the Central Election Commission said Tuesday.
(Japan Times)
Oct 05
Japanese telecom firm Softbank is partnering with Toyota for a venture that could help to usher in a new era of mobility. They want to use automated driving to transform the way people move around and the services they enjoy.
(NHK)
Oct 02
For anyone who is finding it difficult to quit smoking in a country which has been known as the smoking paradise, there is still hope. Aside from the smoking ban which has been recently adopted in Japan, there are a few ways to seek help, get nicotine substitutes, and be motivated to completely quit smoking. Let's take a look.
(newsonjapan.com)
---