Japan's Defense Ministry will raise the age limit of applicants for Self-Defense Forces members and cadets from the current 26 to 32 as early as October, ministry officials said Tuesday.
To conduct the first age hike in 28 years, the ministry will amend an ordinance on rules to implement the SDF law after seeking public comment.
The ministry had initially planned to push up the age ceiling in fiscal 2019 starting next April. But consent from the Air, Ground and Maritime SDF was obtained more smoothly than expected, the officials said.
The number of applicants for SDF members and cadets has been declining on the back of the falling birth rate and economic recovery in the country.
The ministry hopes that the easier age requirement will help the SDF secure capable personnel, the officials added.
Feb 15
The Japanese government has mapped out a bill to officially recognize the Ainu ethnic minority as an indigenous people of Japan.
(NHK)
Feb 09
The government confirmed Friday that it will follow the procedures taken to pick the current era name of Heisei in choosing a name for the new era.
(Japan Times)
Feb 08
Japan's Prime Minister Shinzo Abe says he's determined to settle the country's territorial issue with Russia and conclude a peace treaty.
(NHK)
Feb 06
Japan's Finance Minister Taro Aso has reluctantly apologised for saying childless people are to blame for the country's rising social security costs and its aging and declining population.
(smh.com.au)
Feb 06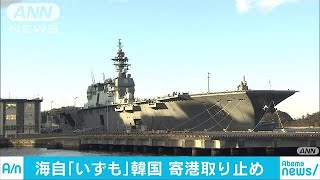 Japan's Defense Ministry has canceled a port call of a Self-Defense Forces vessel in Busan, South Korea, amid soured relations.
(NHK)
Feb 06
Japan's Foreign Ministry has ordered freelance journalist Kosuke Tsuneoka to hand over his passport as he attempted to travel to Yemen.
(NHK)
Jan 30
A mayor in the western Japanese prefecture of Hyogo is in hot water for calling a senior city official "stupid" and suggesting the official "burn down" a local building that stood in the way of the construction of a new road.
(Kyodo)
Jan 29
Breaking with precedent, Prime Minister Shinzo Abe on Monday removed from his annual policy speech a paragraph outlining his vision for Japan's ties with South Korea, in a possible reflection of the neighbors' increasingly tumultuous relationship.
(Japan Times)
Jan 24
President Vladimir V. Putin of Russia on Tuesday dashed Japanese hopes of a settlement any time soon to a territorial dispute that has festered since 1945, declaring after a meeting with the visiting Prime Minister Shinzo Abe of Japan that there was still much "painstaking work" ahead.
(nytimes.com)
Jan 24
Japan's Maritime Self-Defense Force says the patrol plane in question is a P3C from Kanoya Air Base in Kagoshima Prefecture.
(NHK)
---