Many train services in western Japan will be cancelled on Tuesday due to Typhoon Jebi.
Shikoku Railway Company, also known as JR Shikoku, will cancel its services, except for some early morning trains.
West Japan Railway, or JR West, will cancel Shinkansen services between Shin-Osaka Station and Hiroshima Station from around 9 AM.
It plans to cancel all services in the Keihanshin area from around 10 AM.
In the northern parts of Kyoto and Hyogo Prefectures, the company plans to cancel services on part of the Fukuchiyama and San-in Lines, and all of the Maizuru and Bantan Lines from around 9 AM.
In Wakayama Prefecture and its nearby areas, the company will cancel some of the services on the Kisei and Wakayama Lines.
The company will cancel 246 limited express services.
Nankai Electric Railway plans to cancel all services from around noon.
Keihan Electric Railway will cancel services of the Keihan and Otsu lines from around noon.
Sanyo Electric Railway plans to cancel services of its main line and the Aboshi Line from around 10:30 AM.
Osaka Monorail plans to cancel services of its main line and the Saito Line from around noon.
Other railway companies in the Kansai region say they will make a decision depending on weather conditions.
Air traffic will be also affected.
As of 9 PM on Tuesday, airline companies decided to cancel 570 flights on Tuesday mainly in the Kansai region. They also say other flights may also be cancelled or delayed.
Aug 22
With the Rugby World Cup kicking off Sept. 20 in Japan, communities across the country are preparing for the 500,000-plus visitors expected to attend.
(Nikkei)
Aug 22
A Shinkansen bullet train made an emergency stop after one of its doors opened while speeding through northeastern Japan.
(NHK)
Aug 22
The number of South Korean tourists visiting Japan fell last month to its lowest in nearly a year as visitors canceled travel plans amid deteriorating relations between the neighbors, Japanese government data showed on Wednesday.
(Japan Times)
Aug 22
Japan's two largest opposition parties said Tuesday they will form a joint group in both houses of the Diet in an attempt to challenge the ruling bloc's dominance.
(Japan Today)
Aug 22
Tokyo Metropolitan Police have arrested a 50-year-old man over the alleged abduction of a middle school girl in order to molest her last month, reports TBS News (Aug. 21).
(tokyoreporter.com)
Aug 22
It has always been a mystery why Summer Sonic is not held in the relative cool of June or July, but at the very height of summer, when the August sun beats down upon the festival's outdoor stages or typhoons power through the country, threatening disruption and cancellations to the event's packed schedule.
(Japan Times)
Aug 21
Korean Air says it will suspend more flights from South Korea to Japan, due to lower travel demand amid worsening bilateral ties between the two countries.
(NHK)
Aug 21
Immigration authorities revoked a record 832 visas in 2018, more than double the figure of a year earlier, Justice Ministry data showed Monday.
(Japan Times)
Aug 21
Japan's Prince Hisahito has paid a courtesy call on the King and Queen of Bhutan.
(NHK)
Aug 21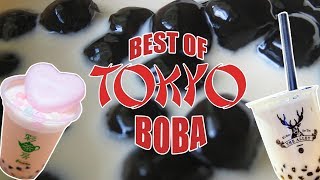 Japan's current bubble tea craze has sent tapioca imports soaring to meet the demand for the drink made with cold milk and tapioca balls.
(Asahi)
---