Heavy rain is battering wide areas of Japan. Weather officials warn that if rainfall continues to increase there is a risk of landslides and swollen rivers.
The severe weather is being caused by a rain front extending across the region, as well as an influx of moist air.
Meteorological Agency radar data showed rainfall of about 100 millimeters per hour in Osaka, Kyoto and Hyogo prefectures in the early morning hours of Saturday.
The agency says western and eastern Japan could see hourly rainfall of more than 50 millimeters into Monday.
Agency officials are forecasting 100 to 200 millimeters of rain for the regions of Shikoku, Tokai, Kinki, Hokuriku and Kanto-Koshin in the 24 hours through Saturday evening.
They are calling on people to stay alert for landslides, swollen rivers, flooding, winds gusts and hail.
Aug 22
With the Rugby World Cup kicking off Sept. 20 in Japan, communities across the country are preparing for the 500,000-plus visitors expected to attend.
(Nikkei)
Aug 22
A Shinkansen bullet train made an emergency stop after one of its doors opened while speeding through northeastern Japan.
(NHK)
Aug 22
The number of South Korean tourists visiting Japan fell last month to its lowest in nearly a year as visitors canceled travel plans amid deteriorating relations between the neighbors, Japanese government data showed on Wednesday.
(Japan Times)
Aug 22
Japan's two largest opposition parties said Tuesday they will form a joint group in both houses of the Diet in an attempt to challenge the ruling bloc's dominance.
(Japan Today)
Aug 22
Tokyo Metropolitan Police have arrested a 50-year-old man over the alleged abduction of a middle school girl in order to molest her last month, reports TBS News (Aug. 21).
(tokyoreporter.com)
Aug 22
It has always been a mystery why Summer Sonic is not held in the relative cool of June or July, but at the very height of summer, when the August sun beats down upon the festival's outdoor stages or typhoons power through the country, threatening disruption and cancellations to the event's packed schedule.
(Japan Times)
Aug 21
Korean Air says it will suspend more flights from South Korea to Japan, due to lower travel demand amid worsening bilateral ties between the two countries.
(NHK)
Aug 21
Immigration authorities revoked a record 832 visas in 2018, more than double the figure of a year earlier, Justice Ministry data showed Monday.
(Japan Times)
Aug 21
Japan's Prince Hisahito has paid a courtesy call on the King and Queen of Bhutan.
(NHK)
Aug 21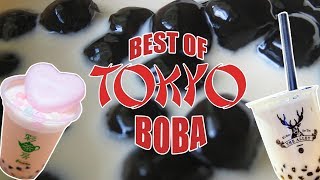 Japan's current bubble tea craze has sent tapioca imports soaring to meet the demand for the drink made with cold milk and tapioca balls.
(Asahi)
---