Japanese Prime Minister Shinzo Abe and Russian President Vladimir Putin have concluded their meeting in Russia's Far East. They agreed to draw up a schedule of joint economic projects on the islands known as the Northern Territories.
Abe said, "We agreed on the details and how to implement the projects. They cover five areas --aquaculture, greenhouse agriculture, developing tours, wind power, and waste reduction."
Abe said the path to future cooperation on the islands is growing clearer. Russia controls the islands. Japan claims them.
Abe said that Japan will dispatch business missions to the islands.
Putin said, "I'm satisfied that we were able to form a roadmap. We also agreed to hold the third business mission by the end of the year."
Abe pledged that Japan will work closely with Russia to address North Korean issues.
He told Putin that Japan hasn't ruled out the possibility of economic cooperation with the North if the issues are settled comprehensively and diplomatic ties are normalized.
The Japanese government maintains the islands are an inherent part of Japan's territory. It says the islands were illegally occupied after World War Two.
Mar 26
Tokyo's benchmark Nikkei Average saw its biggest fall of 2019. The drop followed a plunge on Friday on Wall Street that came amid new worries of an economic slowdown.
(NHK)
Mar 20
As trade talks between Japan and the US look likely to start soon, and the price of oil drops in Japan, the value of the Yen is increasingly under threat of deflation.
(newsonjapan.com)
Mar 20
The average price of all types of land in urban areas rose last year for the first time since 1992 as the growing influx of foreign tourists rejuvenated real estate investment, the government said Tuesday.
(Japan Times)
Mar 19
The Japanese economy will likely once again be assessed as "recovering at a moderate pace" in the government's monthly report due out Wednesday, which also will note potential risks from overseas economies.
(Nikkei)
Mar 16
Japan will tighten oversight of pay for foreign employees through ordinances issued Friday, aiming to address major concerns over working conditions as the country prepares to accept more labor from abroad starting next month.
(Nikkei)
Mar 09
Since the 2008 global financial crisis, expansionary monetary policy has been the order of the day in most of the major advanced economies.
(Japan Times)
Mar 08
Chief Cabinet Secretary Yoshihide Suga denied a media report Thursday that the government is considering introducing a minimum wage for specific industrial sectors that would apply to workers nationwide, regardless of where they live.
(Japan Times)
Mar 04
The inflation outlook is looking dismal for the Bank of Japan as cheaper oil and falling mobile phone charges threaten to push price growth toward zero by mid-summer.
(Japan Times)
Mar 02
Japanese employees and companies are expected to continue shouldering a relatively high ratio of taxes to income. Officials say that on average, 42.8 percent of income will go to taxes and social welfare premiums in fiscal 2019.
(NHK)
Feb 26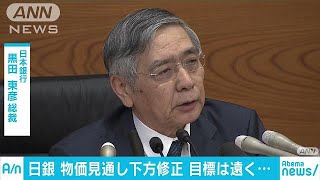 The Bank of Japan can abandon its 2 percent inflation target or suspend efforts to achieve it once the job market is tight enough because the public is better off having prices fall, not rise, an economic adviser to Prime Minister Shinzo Abe said.
(Japan Today)
---