Overseas hackers are thought to have made off with information on Japan's maritime strategy in a March attack on specific people at national universities, which a Nikkei survey has found to be growing targets for their relatively lax security and sensitive knowledge.
An attacker posing as a Cabinet Office staffer attached to a government council on ocean policy emailed malware-laced files to professors at targets including the prestigious University of Tokyo and the Kyushu Institute of Technology. At least one apparently took the bait and opened a file, making possible the theft of information.
The council was formulating Japan's basic plan on ocean policy, which guides the nation's defense of outlying islands and development of maritime resources. It also includes representatives from the Self-Defense Forces; the Japan Business Federation lobby, or Keidanren; and heavy machinery builder IHI.
A China-based hacking group is suspected of playing a part in the attack. There are concerns that the incident could prompt further attacks using fraudulent information and targeting core government institutions.
Overseas groups appear to be increasingly attacking specific targets at Japanese national universities, which work closely with businesses and government but tend to have weaker security, the Nikkei survey suggests. The universities are counted on to improve the country's overall research capabilities. They also receive more in subsidies than private universities and fall under freedom-of-information legislation.
[Image: Information on Japan's plans for defending outlying islands may have been stolen in March's attack. (Courtesy of Japan Ground Self-Defense Force)] Information on Japan's plans for defending outlying islands may have been stolen in March's attack. (Courtesy of Japan Ground Self-Defense Force) Since fiscal 2015, when personal information on more than 1 million people was stolen in an attack on Japan's pension system, 87% of national universities responding to the survey said they had suffered network break-ins, and 34% had information stolen or work impeded as a result. Specific individuals were targeted at 20% of the schools.
Nikkei conducted the survey with Nikkei xTech, a specialist site under Nikkei Business Publications. Of 82 schools contacted, 48 answered, for a response rate of around 60%.
Dec 10
Japan is set to extend the copyright period on works such as novels and paintings to 70 years after the authors' deaths from the current 50 years, effective Dec. 30, when the revised copyright law goes into force.
(Japan Times)
Dec 01
The Japanese government says children born to foreigners in the country on a proposed skilled worker visa could receive resident status, even though the visa would, in principle, bar the workers from bringing family members to Japan.
(NHK)
Nov 30
The artistic commercial secured a Grand Prix win as well as a gold award for the film category.
(soranews24.com)
Nov 29
Ten traditional rituals of Japan featuring people in masks and costumes are expected to be added to the list of UNESCO's Intangible Cultural Heritage.
(NHK)
Nov 26
The hotel industry will be listed as lying within the scope of the type two trainee status under the government's technical intern training program for foreign nationals, officials have said.
(Japan Times)
Nov 24
While the human interaction that's the primary focus of the Japanese Association for Sex Education is right there in the organization's name, its researchers realize that intercourse usually isn't something that occurs without some sort of buildup of attraction and affection.
(soranews24.com)
Nov 23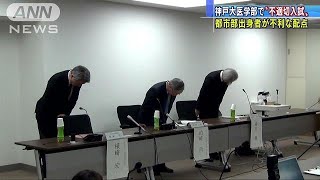 Tokyo Medical University has been stripped of its accreditation, following recent revelations that the university rigged entrance examinations against female and older applicants.
(NHK)
Nov 15
Japan will help countries in the Association of Southeast Asian Nations groom 80,000 manufacturing and digital industry specialists over five years, part of a broader effort by Tokyo toward cooperation in the Indo-Pacific region.
(Nikkei)
Nov 08
Tokyo Medical University will admit applicants who were rejected in 2017 and 2018 due to a rigged admission process, if they still wish to attend the school, sources familiar with the matter said Tuesday.
(Japan Today)
Nov 07
Suicides by Japanese youth have reached a 30-year-high, the education ministry said on Monday, even as overall suicide numbers have steadily declined over the past 15 years.
(Japan Today)
---