In just one year, some of the toughest athletes are set to hit the pitch in Japan for the Rugby World Cup. As the players gear up to play, they're getting some advice about adhering to local customs, including covering up their tattoos.
Rugby's international governing body is asking players to wear sports vests when visiting gyms and pools. It says tattoos are often associated with Japanese organized crime known as the "yakuza."
That's the perception of many in Japan. In a survey three years ago more than half of 600 hotels and traditional inns said they don't allow tattoos in their communal baths.
People in Tokyo had mixed reactions to the advice.
A woman said, "I don't think it's necessary to cover them up. They are part of their identity."
A man said, "If you allow only foreigners with tattoos to go into public baths, gangsters might say 'why can't we go inside?', and that could make it difficult for the operators."
So far rugby players have been more than happy to comply, including the New Zealand All Blacks. Many of the members are Maori and tattoos symbolize their heritage and status.
On the streets of Tokyo, international visitors understood the request. But some say tattoos don't have the same meaning in their country as they do in Japan.
Stephen Ohara from Ireland said, "I've been asked to cover them at a water park, which is fine. I bought clothes to cover them. But I knew that coming over, I knew coming over anyways."
Johan Leduc from France said, "I can understand that it's uncomfortable for the Japanese people to see tattoos, because of the history, of the meaning of the tattoo for the yakuza. But the other people, foreigners are not yakuzas."
The warning to cover up tattoos is being highlighted by the international media, including BBC.
Jun 19
The Japan Meteorological Agency says a magnitude-6.7 quake struck the northern part of the country late Tuesday night. No fatalities have been reported. Tsunami advisories issued along the Sea of Japan coast have been lifted.
(NHK)
Jun 19
Chief Cabinet Secretary Yoshihide Suga says people in the affected areas should remain on the alert.
(NHK)
Jun 19
The Tokyo District Court on Tuesday sentenced Pierre Taki, an actor and member of Japanese techno-pop duo Denki Groove, to 18 months in prison, suspended for three years, for using cocaine.
(Japan Times)
Jun 19
Almost half of singles in Japan who wish to get married are unable to find a suitable partner, with 61.4 percent of the group stating they are not doing anything to change the situation, a government survey showed Tuesday.
(Japan Today)
Jun 19
A 62-year-old man wanted by police on suspicion of stabbing his former wife in Noboribetsu City, Hokkaido, has been found dead in a forest, police said Monday.
(Japan Today)
Jun 18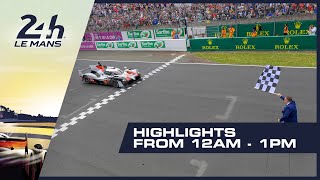 Toyota drivers Kazuki Nakajima, Fernando Alonso and Sebastian Buemi claimed their second consecutive 24 Hours of Le Mans victory Sunday, but only after some bad luck scuttled their sister car's hopes of a win.
(Kyodo)
Jun 18
Police in Kakegawa City, Shizuoka Prefecture, have arrested a 23-year-old woman on suspicion of attempted murder after she abandoned her newborn baby daughter in a business hotel's toilet.
(Japan Today)
Jun 18
Defense Minister Takeshi Iwaya apologized Monday to Akita Gov. Norihisa Satake for errors in the ministry's geographical survey that was used to select the northeastern prefecture as a candidate for hosting a U.S.-developed missile defense system.
(Japan Times)
Jun 18
Japanese e-commerce giant Rakuten and supermarket chain Seiyu are starting a drone delivery service for summer visitors to an island off Yokosuka, near Tokyo.
(NHK)
Jun 17
Osaka Prefectural Police have arrested a man for allegedly stabbing a police officer and stealing his gun in Suita City on Sunday, reports Fuji News Network (June 17).
(tokyoreporter.com)
---