A medical school in Tokyo that recently admitted to rigging entrance exams to discriminate against women has approved its first female president.
Board members of Tokyo Medical University on Tuesday chose Professor Yukiko Hayashi as the school's new president. She will officially assume the post on October 1st.
The school's former chairman and president resigned in July. They were indicted over corruption charges.
They were accused of allowing the son of a former education ministry bureau chief to be admitted to the school illegally in exchange for favoritism in connection with a government subsidy program.
The university's internal investigation committee also revealed that the school manipulated the scores of applicants taking its entrance exams.
This was intended to curb the number of women and repeat applicants accepted at the school.
Hayashi said in a statement that she takes it seriously that the university has lost society's trust.
She said she will work to create an organization that respects individuals so they can fully show their originality and abilities.
汚職事件で理事長と学長が辞職したほか、一般入試で女子などへの得点操作が明らかになった東京医科大は新しい学長として林由起子主任教授が就任すると発表しました。初の女性学長になります。 東京医科大によりますと、林氏は病態生理学分野の主任教授です。
Dec 10
Japan is set to extend the copyright period on works such as novels and paintings to 70 years after the authors' deaths from the current 50 years, effective Dec. 30, when the revised copyright law goes into force.
(Japan Times)
Dec 01
The Japanese government says children born to foreigners in the country on a proposed skilled worker visa could receive resident status, even though the visa would, in principle, bar the workers from bringing family members to Japan.
(NHK)
Nov 30
The artistic commercial secured a Grand Prix win as well as a gold award for the film category.
(soranews24.com)
Nov 29
Ten traditional rituals of Japan featuring people in masks and costumes are expected to be added to the list of UNESCO's Intangible Cultural Heritage.
(NHK)
Nov 26
The hotel industry will be listed as lying within the scope of the type two trainee status under the government's technical intern training program for foreign nationals, officials have said.
(Japan Times)
Nov 24
While the human interaction that's the primary focus of the Japanese Association for Sex Education is right there in the organization's name, its researchers realize that intercourse usually isn't something that occurs without some sort of buildup of attraction and affection.
(soranews24.com)
Nov 23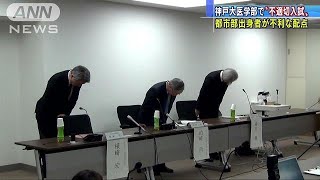 Tokyo Medical University has been stripped of its accreditation, following recent revelations that the university rigged entrance examinations against female and older applicants.
(NHK)
Nov 15
Japan will help countries in the Association of Southeast Asian Nations groom 80,000 manufacturing and digital industry specialists over five years, part of a broader effort by Tokyo toward cooperation in the Indo-Pacific region.
(Nikkei)
Nov 08
Tokyo Medical University will admit applicants who were rejected in 2017 and 2018 due to a rigged admission process, if they still wish to attend the school, sources familiar with the matter said Tuesday.
(Japan Today)
Nov 07
Suicides by Japanese youth have reached a 30-year-high, the education ministry said on Monday, even as overall suicide numbers have steadily declined over the past 15 years.
(Japan Today)
---