The world's third-largest economy has suffered from a caricature. Yes, Japan fell from its pinnacle in the 1990s because of a property crash, enfeebled banks and a dwindling population. But that was then. It's not falling anymore.
When Japan's economy was stumbling, China became the darling of the commentariat, investors and multinational companies developing supply chains. The mood toward China, however, has soured. Now the international impression of Japan needs to change as well.
Far from fizzling, Japan may be on the cusp of a boom, according to a comprehensive report by Morgan Stanley. Deflation has been stymied, immigration is slowly but surely increasing, and that 2.5 percent jobless rate is driving a surge in capital spending. A lot of that is likely to be on artificial intelligence and robotics.
Capital expenditure growth among large firms will average about 7 percent a year through 2020, Morgan Stanley estimates, up from 5 percent last year. Outlays like this are essential as the labor pool dries up. That became abundantly clear to me on a trip to Japan's Rust Belt in 2016. Employers gushed about robots and bemoaned the shrinking pool of skilled humanoids.
Nestled in recent revisions to second-quarter gross domestic product was a jump in private investment: a climb of 3.1 percent, compared with an originally reported 1.3 percent. That was the seventh consecutive increase, a stretch unseen since the bubble era of the 1980s. That period didn't end well, and plenty could still go wrong this time.
But give Japan its due. It's a very different place from two decades ago, when observers abandoned it for China and all those business-book paeans to the Japanese way of business were replaced by hagiographies of the Middle Kingdom.
Japan has had its share of false dawns since then. The central bank has tried to crank inflation up to 2 percent and years of aggressive easing have got it barely halfway. Looked at another way, at least we are talking about too-low inflation, rather than deflation.
Dec 14
A Japanese government panel says a run of growth that began in December 2012 has now become the second-longest period of expansion in the post-war era. But that verdict comes as Japan struggles with sluggish wage growth and a chronic labor shortage.
(NHK)
Dec 14
The Japanese government plans to take measures to make regional labor markets accessible to foreign blue-collar workers to avoid them concentrating in large cities such as Tokyo when the country starts accepting them under the new visa system next year, the government's top spokesman said Thursday.
(Japan Today)
Dec 12
As the global shortage of skilled information technology experts hits Japan hard, companies are scrambling to lure and keep top talent with hefty annual pay packages.
(Nikkei)
Dec 11
Winter bonuses at Japanese companies averaged an all-time high of 834,391 yen ($7,400) this year, according to a Nikkei survey released Monday, notching a sixth straight year of growth on strong corporate earnings.
(Nikkei)
Nov 29
Japan's gross domestic product could fall by over 25% in the next 40 years as its population declines, the International Monetary Fund said Wednesday, urging the government to boost productivity through structural reform to mitigate the damage.
(Nikkei)
Nov 23
Japan plans to give a 5 percent reward-point rebate to consumers on some payments made through credit cards and other cashless means as a way of underpinning domestic demand after a planned tax increase next October, government officials said Thursday.
(Japan Today)
Nov 15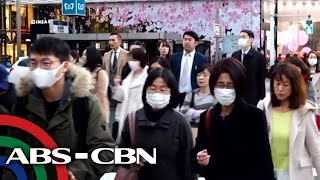 Between 260,000 and 340,000 foreign workers are estimated to flow into Japan in the five years from next April through an envisioned immigration control law revision aimed at dealing with the country's serious labor crunch, government sources said Tuesday.
(Japan Today)
Nov 15
Japan's economy contracted for the first time in 2 quarters. Government officials say a string of natural disasters in the period dented exports and consumer spending.
(NHK)
Nov 14
For the first time in almost three decades the Salt Industry Center of Japan has announced it will raise the price on many of its products by around 15 percent, indicating inflation has finally arrived in at least some industries.
(Japan Times)
Nov 10
On Oct. 15, Prime Minister Shinzo Abe confirmed during an extraordinary Cabinet meeting that the government would raise the consumption tax from 8 to 10 percent next Oct. 1.
(Japan Times)
---